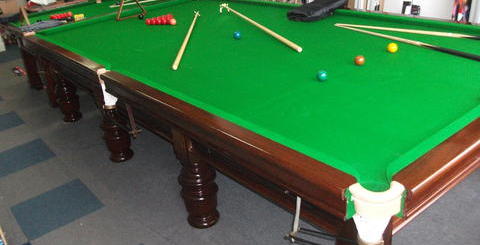 Full Size Sovereign Snooker
This is a full size 'Soveriegn' snooker table, manufactured by Allied Billiards in the 1990's. At the time it was the Company's top table. Allied sadly ceased trading quite a few years ago, but made great snooker tables.
The striking turned legs are over 8" wide and with the frame and cushions are made from mahogany.
The table has been re-furbished with 'Match' cloth (Hainsworth), new pocket nets and leathers and comes complete with all new playing accesssories, rest equipment, soreboard and cue rack.
The cost of this table will be £1950, with delivery/installation costs to be considered dependent on delivery location, but kept to a minimum.
For more details, please call us on 01253 299710 or email; sales@blackpoolsnooker.co.uk