8ft Sovereign Snooker Table by Allied Billiards of Accrington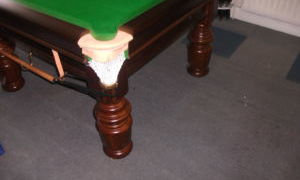 Allied Billiards were one of the best snooker table manufacturers of the 1990's and produced magnificent quality tables. This table the 'Sovereign' was their 'top of the range' table, with 8" wide turned legs, the distinctive leg turnings of the 'Sovereign' make it stand out from other snooker tables.
The table is made from best quality Brazilian mahogany, the cushions rubbered with finest 'Northern Championship' moulded rubber and the bed has been recovered by us with a new Hainsworth 'Match' bedcloth.
The pockets are 'continuous line' pocket plates and are fitted with deluxe pocket nets and best quality moulded pocket leathers.
The table has a three piece Italian slate and the whole table oozes class.
The 'Sovereign' comes complete with the original Allied Billiards 'Sovereign' scoreboard and 8 clip cue rack, both also made from mahogany with brassed fittings, also brass rest hooks at either side to house the spider and cross rest, both fitted with brass heads. There is also a full size set of 'Super Crystalate' snooker balls, in excellent condition, we have added a new white ball to the set, a mahogany triangle, 4 one piece ash snooker cues, a table brush, box of chalk, silver PVC dust cover
This table has had one private owner from new, it has been lovingly cared for and is in excellent condition, when new it cost £3500.00 but is available now for £1850.00.
Delivery and installation is available and we can offer costing information if you message us or call us on 01253 299710. Delivery charges will be kept to a minimum to cover expenses and fuel costs.
Allied Billiards are no longer in existance and this quality of table in this condition is hard to find it really is a classic table.