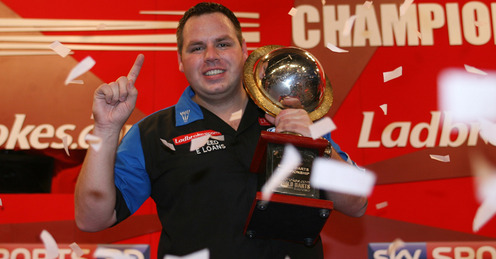 World Champion at Hoddlesden!
An exciting exhibition!
For those in and around the Darwen area the new World Darts Champion, Mr Adrian 'Jackpot' Lewis will be making an appearance at Hoddlesden Conservative Club for one night only! The exhibition will see him play against the local players on Friday 13th May 2011. Unlucky Friday 13th for some but for those who are lucky enough to get their hands on some tickets it will be an informative, fun and truly unforgettable experience not to be missed out on!
The Hoddlesden Conservative Club has already hosted three darts nights in the past 18 months seeing famous names like Peter Manley, Terry Jenkins and Dennis Priestly take on the local players on the oche. Every time that they have hosted a night it has been a complete sell out, this fourth darts night is no different. With Paul Booth the MC setting the scene with entrance music for the players, raffles and auctions like all others in the past it is going to be an evening of tremendous entertainment.
Tickets are just £10 and are inclusive of a potato pie supper, the world champion on show in front of your very eyes and of course a top MC! Yet another great value night and a chance for you to see top darts in action is it any wonder that each event is a complete sell out!
Hoddlesden club is fast positioning itself as one of the main darts venues in East Lancashire; although tickets have been selling fast there are still limited amounts available to buy. You can do this by calling the club manager, Craig on 01254 702762. Alternatively you can call in at the club to buy a ticket. Unfortunately there will be no "pay on the door" facility on the night.
Should you have any other queries or questions then why not call Blackpool Snooker on 01253 299710 or email salesblackpoolsnooker.co.uk
For all of your darts needs then why don't you take a look on our website http://www.blackpoolsnooker.co.uk/