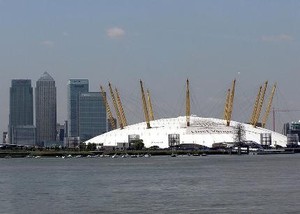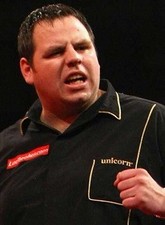 New World champion Adrian Lewis sent a message to the darts World last night after a convincing win over the defending Premier League champion Phil Taylor 8-2 on the opening night of this season's competition at the O2 in London.
In the headline match of the evening 'Jackpot' Lewis, using the Unicorn Maestro Premier Tungsten darts, which helped him win the World Crown, was in a different league to the former 15 time World Champion as he continued his run of form from Alexandra Palace.
Taylor, who has recently changed his darts, has gone back to using the Phase 5 tungsten darts he used in last years Premier League was no match for an on-fire World Champion.
Two debutants also enjoyed their first night on the big Premier League stage, with Mark Webster battering James Wade 8-3 and Gary Anderson edging out Simon Whitlock 8-5, while Terry Jenkins defeated Raymond van Barneveld 8-6.
Even though 'The Power' has suffered a loss of form recently, he had won the Players Championship last weekend but was still not able to match the class displayed by Lewis who went out quick and dominated from start to finish.
Under the weather
Jackpot played down the significance of the victory, insisting that Taylor had been under the weather with flu during the build-up to the game.
"To be fair to Phil he's had flu, he wouldn't say anything to anybody before the match but he's had to leave our press stuff for this early so fair dos to him," Lewis said after the match.
"After winning the world championship my form's perked up massively and I've just got to keep going now to have a chance of winning this."
Terry Jenkins battled back from 6-4 down to beat Raymond van Barneveld 8-6 with the big Dutchman again looking like a fragile figure on stage as he threw away a winning position without much of a fight.
Just a 90 average with five 180s and a top outshot of 99 was enough for The Bull to start his campaign on a winning note.
Webby win
Mark Webster enjoyed a perfect debut with a commanding 8-3 victory over 2009 Premier League winner James Wade, with the Welshman really turning on the style after going into the break level at 3-3.
Webby stepped up into top gear and rattled off 13, 11 and two 15-dart legs with an average of 113 over the four legs to move to 7-3 and ensure he took at least a point from his tournament debut.
He wasted little time in making sure he took all the points home though as he took the next, his fifth in a row, to seal an 8-3 success over a shell-shocked Wade.
"I can't grumble about that - I came up here just thinking about taking at least a point, but I'll take 8-3 and now I can move on to next week," said Webster.
"It's always been my strength that I can perform on the big stage, it's my floor game that needs some work, and the good thing is I can keep playing on here for the next 14 weeks. I want to win this, simple as, I always go into every tournament thinking I can win it."
Gary Anderson followed Webster in making a winning start to his Premier League career as he beat Australian Simon Whitlock 8-5 in an entertaining battle.
The two combined for 11 180s and Anderson nailed a ten-darter before finishing off his victory with a shanghai 120 finish to take two points from his first match in the tournament