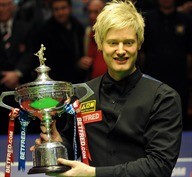 World champion Neil Robertson aims to kick-start his season when he launches the World Open on Saturday against Crucible final opponent Graeme Dott.
The Australian, 28, lost to Peter Ebdon in the first round of the Shanghai Masters, the opening ranking event.
Robertson won the Grand Prix in Glasgow last year but the revamped event is best-of-five frames until the final.
"It's an interesting format. The FA Cup style draw is great and best of five means it will be cut-throat," he said.
"It will definitely benefit the lower-ranked players to earn good money and ranking points.
"It will be very random which is great for the public to see and hopefully there will be some new faces on TV."
Robertson kicks off on Saturday against 2006 world champion Dott - the man he overcame 18-13 at The Crucible to win the World Championship in May.
"It's a tough one to start but you can't really predict anything," he told BBC Sport. "The run of the balls will be a huge thing and that could mean the difference between winning and losing.
"I've been set back with moving my family over and with all my commitments in Australia I've fallen behind a bit with practice, but this is the best tournament I've been able to prepare for."
Ali Carter, who has risen to number two in the world rankings on the back of his victory in Shanghai, will be next on the table on Saturday afternoon against Thai player Thepchaiya Un-Noo.
The opening day also features six-time world champion Steve Davis against 2002 champion Ebdon on Saturday evening.
Sunday will see seven-time world champion Stephen Hendry - without a ranking title since 2005 - take on Belgian Bjorn Haneveer, the world number 60.
Two-time world champion Mark Williams will play Brazilian Igor Figueiredo, a world amateur finalist based in Gloucester, who came through two qualifying rounds to become the first Brazilian to secure a spot at a ranking event.
Jimmy White is also in action against the world number 86, Paul Davison, while Ronnie O'Sullivan - who missed the recent Shanghai Masters - starts his campaign against Mark King on Monday.
Following the completion of the third round, there will be a random draw among the remaining 32 players (with 21 having already come through the non-televised earlier rounds held in Sheffield last month).
The spotlight in Glasgow and for the rest of this revamped season will undoubtedly fall upon Robertson following his monumental efforts in May to become the first player from outside the UK and Ireland to win the world title since Canadian Cliff Thorburn 30 years ago.
The left-hander from Melbourne, now residing in Cambridge with Norwegian partner Mille, has to contend with the added expectations for a world champion and being a new father. His son was born 10 days after lifting the trophy.
But Robertson, while admitting settling in with his new family has set his preparations back a little, is slowly coming to terms with his new commitments and is now focusing on more silverware.
"I just need to re-set my goals and try to get the most out of my ability," he added.
"I am a bit lazy. I used to have the odd week off but I now have to provide for my family! I can't just think about what I need and that's what will motivate me to win more titles.
"I've never been world number one yet so that's a big goal and in May I'll be defending my world title. Few players have done that so I'd love to do it."
What about a quality pool/dining table this Christmas?