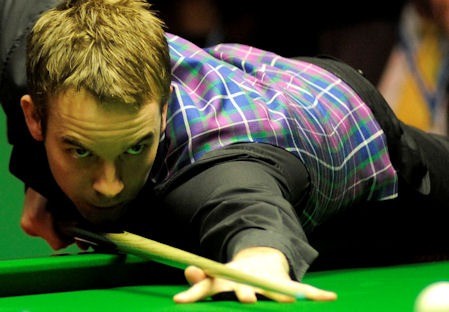 Ali Carter won the second ranking title of his career and moved up to world number two as he beat Jamie Burnett 10-7 in the Shanghai Masters final.
The opening session was closely fought, the first three frames taking 90 minutes and never more than one frame in it as the Englishman edged it 5-4.
Carter, who produced the highest break, 71, of the morning in the eighth frame, led 6-4, 7-5 and 8-6 on the resumption.
But Scot Burnett won the next to keep it tight before Carter sealed victory.
It continued the upward trajectory of the 31-year-old from Tiptree, Essex, who reached the 2008 World Championship final and won his first ranking title at the 2009 Welsh Open.
"I just want to win as many titles as I can in my career," said Carter, who now has only John Higgins - suspended until November - ahead of him in the world rankings.
"If you keep getting to the business end of tournaments then you will have chances to win them and that's what I've done. It wasn't the best match, but those are the ones where winning is what matters."
Carter collected a winning cheque for £60,000 while Burnett, who had never previously progressed beyond the quarter-finals of a ranking event, had to settle for the £30,000 runner-up prize and a jump to 29 in the world rankings.
"I'm happy to have got to the final but disappointed with my performance today," said the 34-year-old Glaswegian, who revealed he had struggled throughout the final with a problem with his right arm.
"I slept awkwardly on it last night and when I woke up it felt numb," he explained. "I had very little feeling in it all day.
"I found it hard from the start, I never got into my stride or felt comfortable.
"There were a lot of close frames that could have gone either way and I won the majority of those, but Ali scored much better than me and he showed his class. There were a couple that I threw away when the balls were there. I tried to hang in there and find a bit of form but it never happened for me."
---
Frame scores (Carter first): 76-25, 43-67, 47-70, 60-7, 70-43, 0-71, 23-65, 71-1, 63-48, 61-15, 70-71, 78-0, 37-60, 55-17, 52-64, 68-31, 78-28
Why not treat yourself this Christmas to a Majestic pool /dining table?