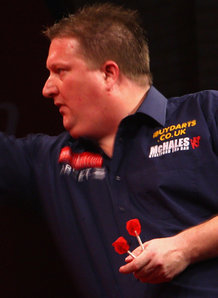 Caven denied back-to-back PDC ProTour titles
Colin Lloyd picked up his third tournament win of 2010 with a 6-1 defeat of Jamie Caven in the final of the Canadian Masters Players Championship.
The Essex star denied Caven back-to-back PDC ProTour titles to take the £5,000 first prize - continuing the form which saw him reach the European Championship semi-finals a month ago.
He showed his best form throughout the day, having missed double 12 for a nine-darter in his opening game, a 6-1 defeat of Jim Long, and then saw off Matt Clark by the same scoreline and Martin Tremblay 6-4 to reach the last eight.
There, he overcame Kevin Painter 6-4 and repeated that scoreline to see off in-form Wes Newton in the semi-finals, before sweeping past Caven in the decider.
Lloyd broke throw in the opening leg of the final before doubling his lead, and after Caven got off the mark in the third the former world number one took the fourth for a 3-1 cushion.
Another break gave him a 4-1 lead, and after Caven missed his chances in the next double 12 put him to the brink of victory, which was sealed in the seventh leg.
Caven followed up Saturday's London Ontario Players Championship victory with a run to the final, as he took home £7,500 for his weekend's work in Canada.
Having defeated home star Ken MacNeil in his opening game, he then saw off Roland Scholten and Mark Webster to reach the last eight, where he edged past Alan Tabern in a deciding leg and then overcame Steve Maish in the semis.
Maish's display was his best run since reaching a Players Championship semi-final in March, and included deciding leg wins against Barrie Bates and Dennis Priestley as well as a defeat of world number nine Mark Walsh.
Mark Dudbridge and Kevin Painter reached the quarter-finals for the second time over the weekend before losing to Newton and Lloyd respectively, while Newton was appearing in his second semi-final in as many days.
New: Phil Taylor's Phase 5 Rosso darts at special price-have a look now!