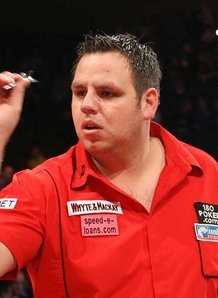 Jackpot breaks usual darts causing dip in form
Adrian Lewis says an accident to one of his darts hampered his pursuit of a Premier League play-off place.
The Stoke ace drew 7-7 with Simon Whitlock last Thursday and now sits two points off the play-off places as the battle for spots at the Wembley Arena on May 23 reaches the last fortnight.
Lewis is just behind James Wade, Ronnie Baxter and Whitlock, who are all on 12 points, after his draw in Aberdeen and faces Baxter and Phil Taylor in his last two outings.
He faces Baxter on Thursday in Newcastle and then unbeaten league leader Taylor in Nottingham in his crucial final encounter.
Lewis had lost his previous two matches, to Terry Jenkins and Mervyn King, but revealed that he had to abandon his regular 21 gram dart after the point snapped off.
Snapped
"My point snapped when one fell out of the board and I had to use heavier darts for a couple of weeks, and my darts were dropping lower," he said.
"I didn't have any 21 gram darts at home but now I've got a set which are a replica of the other ones.
"I'm confident again with the darts and I think I can beat both Ronnie and Phil. There's no reason why I can't qualify - but I've got to win both games."
Lewis was forced to earn a point the hard way in Aberdeen, winning the final three legs to come from 7-4 down to draw with Whitlock.
"Early on I missed a few doubles and let him have shots, which he took out," he said. "I kept plodding on, hit the scores and put him under pressure.
"If I was 7-4 up against him there was no way I'd have lost that match, but he didn't capitalise and I did, and I was happy with the draw in the end."
Also in Newcastle on Thursday, Raymond van Barneveld will hope to continue his nine-dart form from last week as he goes up against second-placed Mervyn King.
Wade's match with Australian Whitlock could go a long way to deciding a play-off place, with both men currently locked together on 12 points in the table.
Terry Jenkins has no real chance of reaching the last four but will not need any help in getting up for his match, as he takes on 'The Power' in the closing game of the night.