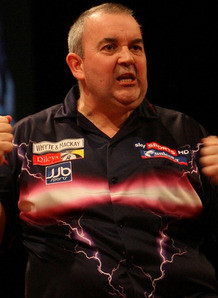 15-times World Champion has chance to avenge last year's semi-final los
Phil Taylor has the chance to avenge his loss to Mervyn King in the semi-finals of last year's Premier League when the pair meet in the last four of the competition next weekend.
The 15-time world champion was drawn against King following Thursday's night's play in Nottingham, with the second semi-final to be contested by Simon Whitlock and James Wade.
Defending champion Wade ensured his appearance at Wembley by edging clear of Terry Jenkins to win the first match of the evening 8-5.
Whitlock, meanwhile, looked imperious in his meeting with King, going 4-0 ahead whilst averaging 111.
King pulled two legs back but the world championship runner-up scored an 8-2 win that featured a total of eight from nine doubles.
"I just practice my doubles, that's all I do, and it's paying off," Whitlock told Sky Sports.
"I think I can go all the way, I've just got to keep my form up," added the Wizard, who also said that Premier League success would not be sufficient for the removal of his trademark ponytail.
Baxter loses out
Although Taylor was already assured a semi-final place by virtue of his 100 per cent unbeaten record in this year's league, five other players stood a chance of taking one of the three places that were up for grabs.
The player to really lose out was Ronnie Baxter, who slipped to fifth in the standings after putting in a nervous performance in losing 8-2 to the in-form Raymond van Barneveld.
Playing in the evening's final game, Adrian Lewis also had an outside chance of beating King to fourth place.
However, there was the small matter of him beating Taylor - who he has never beaten in a televised match - 8-0 or 8-1 in order to do so.
In the event, it was Taylor who beat Lewis 8-1, although the Power later claimed that revenge for his only major defeat on the circuit last year will not be on his mind when he plays King on May 23.
"Last year is last year - it doesn't make a scrap of difference to me," he said. "This semi-final I'm going to be after Mervyn and I'm sure he's going to try and do the same. It's going to be a different game this year; that was a year ago.
"This time I'm after the Premier League, I'm not after Mervyn King. I'm after winning it."
Get THe Power's Phase 5 darts on offer at: http://www.blackpoolsnooker.co.uk/products/darts/unicorn/steel-tip/phase-5-the-power-95-tungsten-nickel-product.html