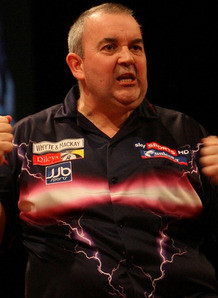 15-times world champion throws two nine-dart finishes to lift Premier League crown
Phil Taylor saved the best until last on Monday night by throwing two nine-dart finishes in beating James Wade 10-8 to win the 2010 White and Mackay Premier League title.
The 15-times world champion's moment of history came in a match that was quickly being hailed as the best ever seen on television - defending champion Wade playing his part by putting up a gritty display in the face of his opponent's brilliance.
Wade averaged 100 in the Wembley final but Taylor's 112 average tells its own story. The nine darters came in the second and 15th legs and the Power could have had another in the 16th but missed treble 17 when lining up a 147 checkout.
Weird
"When I went up for the third one and missed the treble 17 they all booed me, it was dead weird," said Taylor after picking up the winner's cheque of £125,000 for what is his fifth Premier League win.
"Obviously I'm over the moon about winning the title back. This has been one of the greatest finals ever. You can forget the Kevin Painter one, the Barney one and the Mike Gregory one - this is one of the best finals ever.
"Even when I took the nine-darters, James was right behind me. He was pushing me all the time and I thought 'You've got to do another one'. I thought there were going to be three.
"I'm speechless, I'll be honest with you. For the first time in my career I'm absolutely gobsmacked," added Taylor, who remained unbeaten throughout the tournament.
Wade, who earlier beat Simon Whitlock 8-6 to reach the final, made a strong start and took the opening leg with a 136 checkout before Taylor threw his first nine-dart finish before going 2-1 ahead.
Dogged
Wade then levelled before Taylor won three legs in a row to take a 5-2 lead. The pair then traded breaks as Taylor went 7-4 ahead, with the dogged Wade keeping himself in the match at 7-5 before breaking again in a scrappy - by the standards of the match - 13th leg.
He then levelled as the pair traded 180s before Taylor hit his second nine-darter - and very nearly managed a third.
The Power then misfired for once, missing double top and allowing Wade to hit 64 for 9-8. However, he then checked out on 88 for victory.
Earlier, Taylor warmed up by averaging almost 108 as he dispatched Mervyn King 8-1 in their semi, with King gaining £50,000 worth of consolation when he later edged Whitlock 8-7 in the third-place play-off.
Want to play with the same darts as THe Power? Click on the link below and buy his Phase 5 darts while they are still on Special Offer:
http://www.blackpoolsnooker.co.uk/products/darts/unicorn/steel-tip/phase-5-the-power-95-tungsten-nickel-product.html