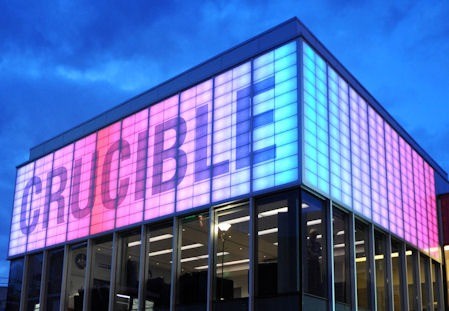 Here's a list of century breaks made during the 2010 Betfred.com World Snooker Championship.
There were 60 tons made during the 17 days at the Crucible. Graeme Dott and Mark Allen topped the chart, and made history by scoring the first ever 146 breaks at the Sheffield venue.

Fastest to the 100 mark was Ronnie O'Sullivan, who took just 5 minutes 22 seconds to reach three figures in the 23rd frame of his second round match against Mark Williams. Slowest to top the ton was Shaun Murphy, who took 11 minutes 45 seconds in the 23rd frame of his last 16 clash with Ding Junhui.
146 Graeme Dott
146 Mark Allen
142 Mark Selby
140 Neil Robertson
137 Ding Junhui
131 Mark Allen
130 Graeme Dott
128 Steve Davis
128 Shaun Murphy
127 Graeme Dott
127 Liang Wenbo
127 Stephen Lee
124 Neil Robertson
122 Mark Allen
122 Ali Carter
121 Stephen Hendry
121 John Higgins
120 Stephen Maguire
120 Ding Junhui
117 Ronnie O'Sullivan
117 Mark Selby
116 Martin Gould
116 Graeme Dott
116 Neil Robertson
115 Mark Williams
115 John Higgins
115 Graeme Dott
114 John Higgins
114 Stephen Maguire
112 Marco Fu
112 Neil Robertson
112 Graeme Dott
112 Michael Holt
111 Ronnie O'Sullivan
110 Graeme Dott
108 Shaun Murphy
108 Mark Selby
108 Ronnie O'Sullivan
107 Neil Robertson
107 Tom Ford
106 Ronnie O'Sullivan
106 Neil Robertson
106 John Higgins
106 Mark Selby
105 Graeme Dott
104 Mark Selby
104 Ali Carter
104 Neil Robertson
104 Ronnie O'Sullivan
103 Ding Junhui
103 Mark Selby
103 Martin Gould
103 Liang Wenbo
102 Steve Davis
102 Martin Gould
101 Mark Allen
100 Shaun Murphy
100 Mark Allen
100 Ronnie O'Sullivan
100 Ali Carter
Why not have a look at our range of quality snooker tables at:
http://www.blackpoolsnooker.co.uk/products/snooker/snooker-tables-products.html