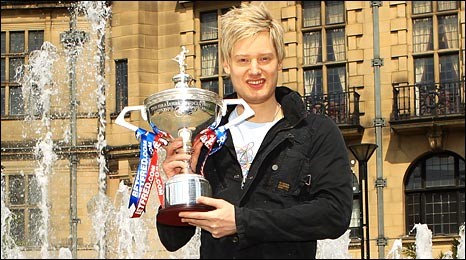 Neil Robertson has vowed to be a role model for snooker after becoming the first Australian to win the World Championship at the Crucible.
The 28-year-old lifted the crown after his 18-13 win over Graeme Dott in the early hours of Tuesday morning.
But with the sport overshadowed by the suspension of John Higgins after bribery allegations, Robertson knows he will be under scrutiny.
"Obviously there's a lot of added responsibility now," he said.
"It's not just here but for the people back home as well.
"I've probably been dealing with it anyway because I've been representing Australia, and if there was any hope of more Australian players coming through I had to have a good reputation.
"That's definitely important and it's something I'm going to have to handle.'
"It's a really big responsibility and it comes with the package."
Robertson, who is now number two in the world rankings, believes snooker can take off in Australia, and hopes the country can stage some high-profile events.
The World Championship was staged in Melbourne in 1975, but there have been few major events in the country since then.
"I've got a lot of work ahead of me to try to make the most of this with Australia," he said.
"We have been close to staging tournaments, money hasn't been quite there and perhaps all that was missing was the promoters back home didn't have a world champion.
"Now that's happened, hopefully something can happen now.'
Robertson travelled to Oslo on Tuesday to show the World Championship trophy to his Norwegian girlfriend, Mille, who is due to give birth any day now.
But before he departed he was keen to savour his victory against Dott which came after he had knocked out three Englishmen en route to the final, including six-time winner Steve Davis.
"England can have the Ashes at the moment, I'll have the World Snooker Championship," he added.
"It's another sport we've become a world champion @at, and hopefully I won't be the last Aussie to do it.
"I was thinking there's no way in the world the snooker gods are going to allow me to be world champion and then a dad a few days after, it's just not going to happen.
"But it's absolutely incredible, an amazing feeling. I'm sure I'm going to go through a few emotions over the next week or so as well."