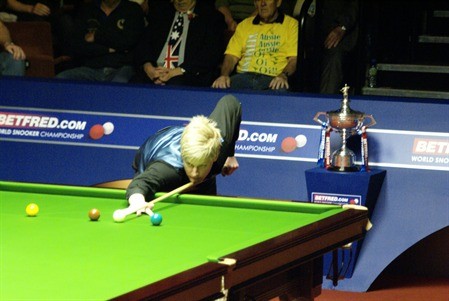 Neil Robertson dug deep to take a 12-10 lead over Graeme Dott into the concluding session of the final of the World Snooker Championship.
The Australian, resuming 9-7 ahead, saw Dott begin with a 79 but then knocked in an 82 break on his way to winning back-to-back frames for a 11-8 lead.
Safety play dominated, with Dott eventually coming through a lacklustre 20th frame to pull it back to 11-9.
Robertson won the next but Dott reduced the deficit with a fine 112.
Dott's impressive effort, compiled despite constantly finding himself out of position in the early stages of the break, was the first century of the match, something of a surprise with both players having produced seven centuries each in their path to the final.
Trailing by two frames at the start of Monday afternoon, the 32-year-old Dott, in his third world final, opened up his account with a smooth break.
Meanwhile, Robertson looked a little edgy and missed a pink when on 49 to hand the initiative back to his opponent.
Dott messed up on the brown and Robertson pounced to pot a tricky blue and wrap up a 37-minute frame.
A faultless 82 followed in the next to give last year's semi-finalist a three-frame lead before a bizarre frame followed.
Dott had already racked up 52 points and, after ending the break with a doubled red, he went on to foul the green, leaving Robertson a seemingly simple shot back to baulk.
This season's Grand Prix winner looked confused with the Crucible's famously pressurised atmosphere seemingly having an effect, as the Australian spent five minutes perusing every angle before offering the shot to Dott
The crowd were left bemused, and after the Australian missed another pink Dott finally wrapped up another long frame to make it 11-9.
A run of 51 guided Robertson to the next before Dott produced some rare fireworks to get the score to 10-12 as the players exited for a well-earned rest.
The last session of this 35-frame clash begins at 2000 BST.