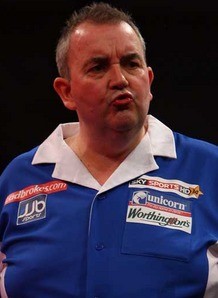 15-time world champion hungry to get Premier League crown back
Phil Taylor is predicting a thrilling night of action on Sunday in the culmination of the Premier League season at Wembley Arena.
'The Power' is chasing a fifth Premier League crown on Sunday, having lost last year following wins in the first four editions of the tournament.
Taylor is joined by Mervyn King, Simon Whitlock and defending champion James Wade in the semi-finals for the £125,000 Premier League title.
King shocked Taylor with an 11-7 win in the semi-finals 12 months ago, but Taylor will be out for revenge as he looks to complete an unbeaten Premier League season by winning back the silverware.
With defending champion Wade playing World Championship finalist Whitlock in the other semi, Taylor says it will be a cracking night of action.
Cracking night
"I think you're in for a cracking play-off night," said Taylor. "The semi-finals will be great and it's all to play for from there.
"I will be ready, 100 percent, and I've got another three or four gears to go yet.
"I enjoy the tough matches and that's what you practice for, to be tested in matches, and that's what the fun is in the game."
Wade only just made the final four after a shocking start to the season, while Australian Whitlock has been ultra consistent and pulled out some deadly finishing to come second in the table.
"James qualifying is remarkable from the way he started the season and Simon has done brilliantly to come through this field," Taylor added. "He's very consistent and a great player to watch, and a good finisher."
Unbeaten
15-time world champion Taylor averaged over 100 and avoided defeat throughout the 14-night league campaign, but the only thing he is interested in claiming back the trophy.
"It wasn't so much about finishing top, I'm after the Premier League trophy," said the Stoke legend. "I want to win this back and I'm after it big-style.
"A couple of times I got a bit lucky to get draws but it's not always easy to get over the finishing line and I'm happy.
"I don't think about being unbeaten, it's about getting through to the semi-final and winning the thing."