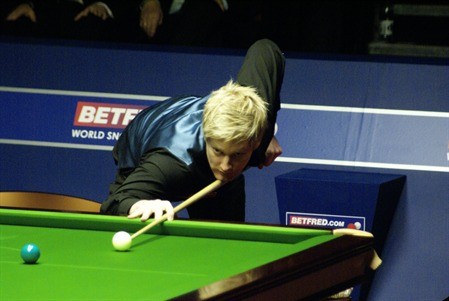 Neil Robertson resisted an Ali Carter fightback to win 17-12 and become the first overseas player to reach the World Championship final for 27 years.
Trailing 15-9, Carter won the opening two frames with breaks of 64 and 71 to rattle the 28-year-old Australian.
The next two were shared but Robertson held his nerve to become the first player from outside the UK and Ireland since Cliff Thorburn to make the final.
The provisional world number four plays Graeme Dott or Mark Selby on Sunday.
Having already bagged the Grand Prix this season, his fourth ranking title, Robertson could become world number two if he becomes the first overseas player since Canadian Thorburn in 1980 to triumph at the Crucible.
"It means an awful lot," Robertson told BBC Sport. "It's not the best achievement of my career - I still think winning a ranking event final is better - but it's a very proud moment.
"I was under a lot of pressure. You represent your country and everyone is very excited back home. Apparently they might be showing the final live now, and that would be unbelievable.
Although the blond left-hander from Melbourne was made to sweat a little in the final session, it was a match he largely dominated, delivering four centuries and his trademark dazzling long potting.
After winning the first five frames of the match and building up leads of 6-2, 10-6 and 15-9 after the first three sessions respectively, Robertson was in cruise control.
But his victory did not come without a nervy battle, Carter hinting at matching the Crucible's greatest semi-final comeback - Ken Doherty's last-frame win from 15-9 down against Paul Hunter in 2003 - when he breezed through the opening two frames on Saturday afternoon.
Carter should also have nicked a tense 27th frame, having built up a healthy lead with a break of 35.
The 30-year-old from Tiptree had a two-point advantage when he produced an outrageous fluke on the red and the tide seemed to be turning in his favour.
But he failed to capitalise and Robertson kept his cool to clear to the pink and stumble to within one frame of the finish line.
The drama continued when Carter came through a 31-minute 28th frame to make it 16-12 at the mid-session interval.
But on the resumption, a jaded Carter returned to his chair after missing a red in the bottom corner to hand the initiative back to Robertson.
The left-hander calmly compiled a match-winning break of 35 and was soon waving to his legion of fans as he celebrated a first final appearance, having lost to John Higgins at the semi-final stage a year ago.
He is the first Australian to make a World Championship final since the late Eddidie Charlton.Robertson had easy wins over Fergal O'Brien in the first round and Steve Davis in the quarter-finals, but after a testing last-frame thriller with Martin Gould in round two he was relieved Carter's recovery was short-lived.
"I got a little bit anxious trying to get it over with, which is the worst thing you can do," he added.
"But at 16-12 I relaxed, although I was very relieved to be presented with that chance in the last frame."
Carter, who looked jaded in the opening stages after a late finish to his final-frame quarter-final with Shaun Murphy, said: "I'm disappointed I couldn't play well.
"I wanted to make it hard for him to win but in the end I made it quite easy. His safety play was superb and his long game apart from the last session was brilliant.
"After losing the second frame to go 2-0 down my head totally went. I could have smashed the place up - I was that angry - but I was feeling very tired."