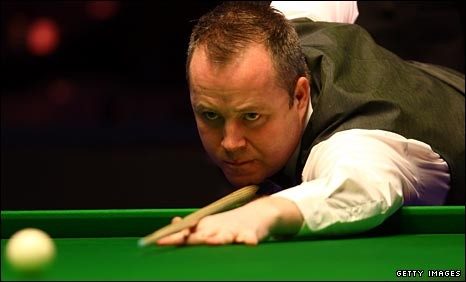 John Higgins has insisted that he is "100% innocent" of the match-fixing allegations that have prompted his suspension from snooker.
The three-time world champion is facing an investigation after being filmed by journalists apparently agreeing to lose frames in exchange for £261,000.
"I have been accused in the media of cheating. I have been accused of planning to fix matches," he said.
"To both of those charges, I am 100% innocent. I will clear my name."
The 34-year-old was hit with new newspaper allegations on Sunday that he attempted to bet on himself to lose the 2009 World Championship final.
Higgins went on to win the title with a 18-9 win over Shaun Murphy.
"In the last week I have experienced a whole range of emotions: despair, frustration, anger, rage and most of all a sense of betrayal," he said.
"Snooker is my life. Snooker has been good to me and I hope that over the years I have been good for snooker.
"In my 18 years playing professional snooker I have never deliberately missed a shot, never mind intentionally lost a frame or a match."
Higgins, who was filmed along with manager Pat Mooney in Kiev, insisted he was committed to taking the game to new markets such as the Ukraine.
"I wanted to take the magic of snooker to towns, cities and countries where people had only ever seen snooker on television," he said.
"I wanted to act as an ambassador to spread that magic of snooker throughout the world. Despite the events of last week, it is something I believe in from the bottom of my heart."
Higgins and Mooney have worked together to promote the World Series of Snooker events that has held events in Germany, Poland, Russia and Portugal.
Mooney quit the board of the World Professional Billiards and Snooker Association in the wake of the allegations.