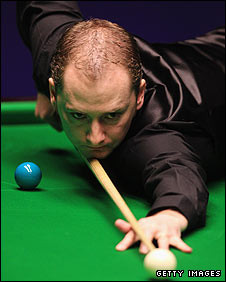 World Championship runner-up Graeme Dott has parted company with Pat Mooney following allegations of match-fixing against his manager.
A News of the World report alleged that Mooney and John Higgins, who Mooney also represents, had been prepared to fix frames at high-profile tournaments.
Both men deny the allegations, which have rocked the game of snooker.
Mooney quit the board of the World Professional Billiards and Snooker Association in the wake of the scandal.
Three-time world champion Higgins has been suspended from playing pending a WPBSA investigation into the claims.
Dott, world champion in 2006, lost this year's final at the Crucible in Sheffield, beaten 18-13 by Australian Neil Robertson.
The 32-year-old from Glasgow, who has battled with depression and a downturn in form in recent seasons, released a brief statement announcing the split from his manager.
It read: "Further to the press reports last week involving Mr Pat Mooney, I have terminated my representation contract with Pat Mooney and FSTC Management with immediate effect.
"I will have no further dealings with either of these parties."