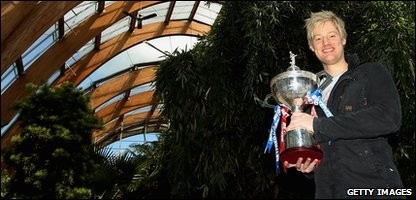 New world champion Neil Robertson has paid tribute to the support he has received from his friends in Cambridge and practice partner Joe Perry.
The 28-year-old Australian beat Graeme Dott 18-13 early on Tuesday morning.
He hails from Melbourne, but moved to Cambridge in 2004 where he practices alongside Perry, the world number 12.
He told BBC Radio Cambridgeshire: "Joe Perry is a great practice partner and a great friend, and I wouldn't have got to where I am without Joe."
Robertson moved to Cambridge after making contact with billiards star Phil Mumford who offered him the chance to move into his house in the city.
Robertson has practiced alongside Perry since 2004
He initially played with Perry at the Cambridge Snooker Centre, but the pair switched to Willie Thorne's Snooker and Sporting Club in 2008.
Many of the club's members made their way to Sheffield to lend their support and WT's Dan Lewis has said everyone associated with the club is delighted.
"It couldn't be better for the town or snooker in general, the moment he played his last shot I was straight on the phone, sending him a text," said Lewis.
"He's been so much more relaxed recently and that's why he's become even more successful."
Robertson is awaiting the birth of his first child and has flown out to Norway to be with his girlfriend Mille.
He plans to continue living in Cambridge with his new family and has said a big night out is planned for when he is next back in East Anglia.
"A lot of the boys from the club came up and that was fantastic as they've been so good for me," said Robertson.
"I can't wait to get back to Cambridge and share the success with all the guys back then."
While his latest success is still yet to sink in, Robertson has said his next aim is to claim victory at the UK Championships and the Masters.
"It's the fifth consecutive calendar year I've won a tournament so I've proven to be one of the more consistent players on the circuit," he said.
"I need to reset my goals and practice even harder, because I'm going to be a really big scalp now."