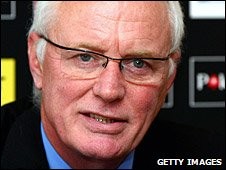 World Snooker chairman Barry Hearn has announced a new series as part of his "brave new world" for the sport.
The Player Tour Championship, consisting of 12 three-day events, will begin next month in Sheffield.
The series will have an Order of Merit but world ranking points will also be available for tour players.
Six of the events will be in Sheffield with the other six in Europe, including at least four in Germany. Each event will have prize money of £50,000.
"The Player Tour Championship forms the backbone of our brave new world for snooker," said Hearn.
"It plugs the gaps between the main ranking events, providing plenty of opportunities for the professionals, which is what they have been crying out for."
It is envisaged that each event will have a maximum field of 128 in order to allow a minimum of 32 places for amateurs to compete against the 96 professionals.
At the end of the 12 events, the top 24 on the final Order of Merit will go through to the televised stages in March.
The televised stage will have £200,000 up for grabs.
"I'm particularly excited about the new Order of Merit," added Hearn.
"This will create extra interest among fans and media as players battle to get one of those 24 spots in the final stages.
"It will be like the race to get into the Ryder Cup team in golf, with players sweating over every pound. It gives talented young players the chance to come from nowhere and surge up the list, while the top boys will have to be on their mettle.
"I hope that all of the leading stars will enter these events, and with a lot of money and ranking points available, there is every incentive.
"They will have to play in at least six of the PTCs to be eligible for the televised finals. I've used a similar model in darts and it's worked fantastically well."
Hearn returned to the sport last year, being named chairman of the World Professional Billiards and Snooker Association in December.
He intends to take a 51% stake in World Snooker, with players and other stakeholders in the sport owning the remaining 49% of what would become an independent business.
The players are set to put Hearn's new plans for the sport to a vote in mid-June.
Since returning to the sport, Hearn has announced plans for a one-frame shoot-out event for the world's top 64 players, helped set up a new ranking event in Germany, extended the deal to hold the World Championship at the Crucible and announced plans for a World Seniors Championship.