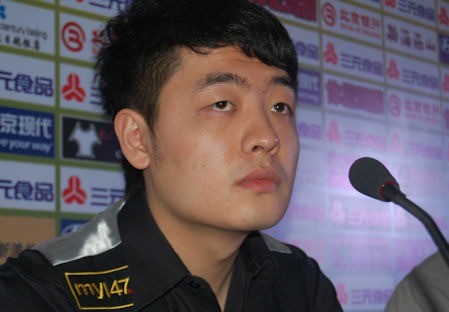 Wild card Tian Pengfei sent Mark Davis back to the UK with a 5-4 victory as the Sanyuan Foods China Open got underway in Beijing.
China's 22-year-old Tian was sure to be a dangerous opponent for Sussex's Davis, as he knocked out David Gray and Marco Fu here last year and has experience of playing on the professional Tour. Davis, however, has been in the best form of his career this season and looks a sure bet for next term's top 32, so will be disappointed to get straight back on the plane without the chance to test his game against Ronnie O'Sullivan in the first round proper.

The Hastings cueman made a bright start by taking the first frame on the black and the next with a run of 64, only for Tian to knock in 69 and 95 for 2-2. Davis regained the lead before breaks of 52 and 54 saw Tian edge 4-3 ahead. A superb 143 total clearance - which could yet earn him the consolation of the £2000 high break prize - saw Davis force the decider, but he missed chances in a scrappy last frame and eventually lost it when he failed to get the snooker he required on the yellow.

"My performance was ok. Even at 2-0 down I felt relaxed and I didn't put any pressure on myself in the last frame," said Tian. "I will now play Ronnie for the first time and I hope to learn from him."

Rod Lawler won the last two frames for a 5-3 success over Thailand's Supoj Saenla, who made the best breaks with 98 and 68.

Andrew Higginson had a far more comfortable passage into the last 32 as he beat Li Yan 5-0 with a top break of 64. "It's my first time in Beijing and I felt a bit nervous at the start, but now I feel as if I'm in the tournament," said former Welsh Open finalist Higginson. "It wasn't easy for Li because the TV tables are much faster than what he is probably used to. He's got good technique and he's one for the future."

Gloucester's Rob Milkins saw off Lu Chenwei 5-2 with best efforts of 55, 50 and 74.