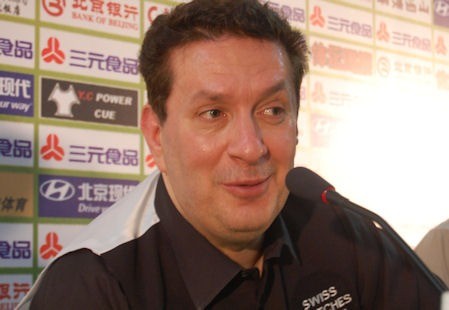 Tony Drago kept his brilliant season going with a hard-fought 5-3 win over Shi Shuamgyang at the Sanyuan Foods China Open.
Quickfire cueman Drago's match was surprisingly the last of the four to finish in the evening session in Beijing, but that mattered not to the Maltese magician as he booked a last 32 meeting with Joe Perry.

Drago looked in trouble at 3-2 down, but crucially stole frame six with a brown to black clearance, then got the better of a scrappy seventh frame before finishing in style with a break of 120.

"He kept going for the wrong shots and in the end they stopped going in. If he'd played more safety he could have beaten me 5-1," said the Tornado of his opponent. "He reminded me of me, 25 years ago. If he tightens up he will be a very good player.

"This time last year I was off the Tour and losing my love of the game. Then I met up with Jimmy White and said that with my talent I should keep going. I went to practise with him at his club in London and I've turned it around. I've won 17 out of 22 matches this season, I think only one or two players on the Tour have won more. If I can do the same next season I could be in the top 32, although I will need more of the same hard work."

Belgium's Bjorn Haneveer also had to come from behind, winning the last three frames to beat Yu Delu 5-4. A high scoring contest saw Yu make a 116 and Haneveer make 73 and 102 within the first four frames. The Chinese potter made 81 and 68 to go 4-2 ahead, but he scored just nine points in the last three frames as Haneveer took them with a top run of 55.

"I was in real trouble at 4-2, but I never give up and I started playing better," said Haneveer.

Thailand's James Wattana enjoyed a routine 5-0 win over Au Chi Wai. The former World No 3 opened with a 77, stole frame two with a colours clearance and took the next three with a top run of 52.

"The scoreline makes it look easy but it wasn't," insisted Wattana, who won three ranking events in the 1990s. "These wild cards have nothing to lose and something to gain. I'm 40 now so I'm just trying to enjoy my snooker, because I still love the game."

Rory McLeod's excellent season included victory in the Pokerstars.com Masters qualifier, but it came to an abrupt end tonight as he lost 5-0 to Liu Chuang. Liu, who won five matches to qualify for the Crucible two years ago but then dropped off the pro Tour last season, made a 104 in the opening frame and later knocked in 57 and 72.