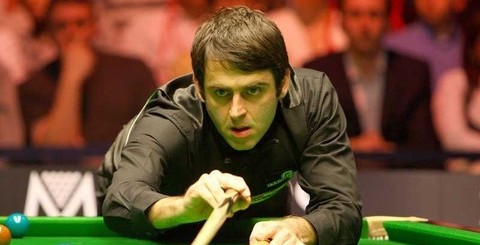 Ronnie O'Sullivan crashed out of the Sanyuan Foods China Open at the first round stage with a shock 5-3 defeat against wild card Tian Pengfei.
The Rocket gave up his chance of a Chinese double, having won the Roewe Shanghai Masters in September, as well as any hope of hanging on to his official World No 1 spot, as John Higgins will definitely be top dog in the rankings next season following this result.

O'Sullivan played at a rapid pace with little regard for safety, but more importantly missed a succession of easy pots, including a sitter of a black which would have made it 4-4.

"I thought I played ok, there were just two or three frames that I lost from a long way ahead, when Tian made good clearances," said the three-times World Champion. "I had a chance for 4-4 but I missed too many balls at crucial times.

"I felt relaxed and my preparation was as good as it could have been, but I wasn't the better player on the night. I try hard and play to win every match, but if my form is not great I will struggle against good opposition. Apart from Shanghai and the UK Championship, this season I have been below the standard I set myself."

O'Sullivan led 2-1 after breaks of 93 and 77, and knocked in a 59 in frame four but missed a short range red along the top cushion and Tian cleared to nick it. The next saw a similar story as O'Sullivan broke down on 61 and his opponent made a superb 63 clearance.

The Englishman levelled at 3-3 with a 62 and started frame seven with six reds and blacks, before attempting an incredibly difficult thin cut along the baulk cushion and leaving it hanging over the pocket. Tian made a smooth 87, but looked to have squandered his chance of a 5-3 victory when he missed the final brown to a centre pocket in the next.

O'Sullivan potted brown, blue and pink and finished perfectly on the black, but played it virtually dead weight and found only the jaws of the pocket, before turning around to shake hands.

Tian is through to the last 16 of this event as a wild card for the second straight year, having beaten David Gray and Marco Fu last year. "I was shocked by Ronnie's final mistake," said the 22-year-old. "He played freely and with no caution. But I was excited to play him as he is my idol. I didn't feel any pressure as I wanted to learn from him."

Another surprise scoreline saw Nigel Bond come from 2-0 down to beat Shaun Murphy 5-2. World No 3 Murphy opened with 76 and 127 but lost a tight third frame on the colours, which proved the turning point as Bond went on to win the next four with best efforts of 79 and 59.

Mark Selby enjoyed a 5-2 win over Rod Lawler to earn a metting with home favourite Ding Junhui. The Pokerstars.com Masters champion made breaks of 57, 79 and 67.

"Rod was probably the better player for most of the match, but there were a couple of frames where he was 50 odd ahead and I came back to win. I've never played Ding in China before so I'm looking forward to it."

Joe Perry enjoyed a welcome return to form with a 5-1 defeat of Tony Drago, compiling runs of 58, 68, 75 and 53.