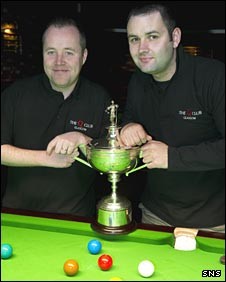 World champion John Higgins is calling for an overhaul of the way snooker is funded as he fears the game could decline in Scotland.
"It makes you mad sometimes to see some of the lottery and sportscotland funding for other sports when I don't think we get a penny," he said.
"It's always left to private clubs owners to help the sport along.
"We've got to have a radical rethink of the way the sport is funded to help the young players develop."
Yet Higgins was speaking at the launch of the second Glasgow Q Club, which is laying claim to be the first in the world to boast snooker's top two players.
Higgins, who is provisionally ranked number one, joins up with the world number two and former UK champion Stephen Maguire at the new venue.
"Stephen is obviously number two and I started off four or five, but I have had a decent season and got into pole position ahead of the world championships," said the three-time champion.
"It would be fantastic to have the two top-ranked players in the world playing out of the same club."
Higgins thought that more funding was required to help Scotland produce players to match the achievements of himself and seven-time world champion Stephen Hendry.
"When we are producing top-class players it would be nice to get some recognition from the government to help them out sometimes," said Higgins.
Alan McManus and Marcus Campbell also play out of the Q Club and Higgins believes that having such practice partners can only help his quest for back-to-back world titles.
"There's a month to go and that is my main aim to come here and practice for four or five hours as we all want to win the world title," he said.
"Hopefully we can play some great matches together and it can help us all progress."
Maguire thought it was ideal for his own preparations for next month's event at the Crucible in Sheffield.
"It is the best addition we can get for the club and, as a practice partner, it is perfect leading up to the world championship," he said.
"I want to be world champion. He is going to be the world number one at the end of the season barring a miracle.
"That's the pinnacle of the sport and what everyone dreams to achieve.
"He is getting there and has been there before. He's doing it again and that proves how tough he is and hopefully, in a couple of years, I will take that mantle from him.
"I can just feed off him, put up a fight against him in practice and I will probably sharpen up his game a bit, but no doubt he will help me more than I will help him.
"It helps that the two of us are friends off the table as well. We come from similar backgrounds and we get on."