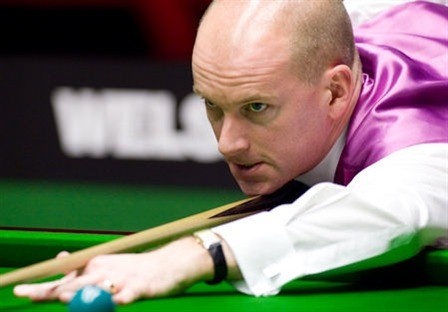 Peter Ebdon has no shortage of motivation as he goes into the defence of his Sanyuan Foods China Open title.
The former World Champion is set to fly to Beijing for the world ranking event, which starts on Monday and runs until the following Sunday.
Ebdon beat John Higgins 10-8 in last year's final, a triumph which allowed him to retain his top 16 status for a 16th consecutive season. His place among the elite is now in danger again, as he stands 18th on the provisional list with just two ranking events to go this season.
"I go to China with great determination," said 39-year-old Ebdon. "I put my heart and soul into winning it last year, it was a massive effort. Now I need to do it again because my top 16 place is under threat."
Last season saw Ebdon suffer a crisis of form as well as problems away from the table with the break-up of his 20-year relationship with wife Deborah. "I was in a state mentally, and my game wasn't there," he added. "Because of what I was going through in my personal life, I would have to rate winning in China as my greatest ever victory. Even ahead of the (2006) UK Championship, when I played my best ever snooker, and the (2002) World Championship, which is my most significant win. I'm incredibly proud of what I achieved in Beijing. It's also very important to do well in China because it's such a huge and developing market, the people are fanatical about snooker."
Ebdon, who faces Judd Trump in his opening match on Wednesday, warmed up this week with a run to the semi-finals of the Championship League, and is looking to finish the season strongly. "My game is heading in the right direction," he said. "China is a stepping stone to the World Championship, you need to peak at the right time and be in the best possible shape mentally and physically."
The Sanyuan Foods China Open will be televised on CCTV and Eurosport.