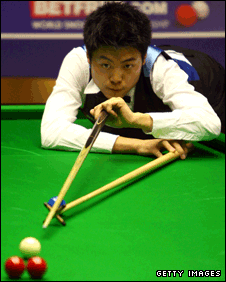 China's three rising stars face intriguing matches in the first round of the World Snooker Championship, while John Higgins will start his bid to retain the title with a clash against Barry Hawkins at Sheffield's Crucible Theatre.
Higgins, who beat Shaun Murphy in last year's final, will play the opening match of the tournament on April 17.
Aside from the champion's first match, the most interesting first round ties involve the three Chinese players in the draw.
Liang Wenbo has been handed the daunting prospect of facing O'Sullivan, while 18-year-old Zhang Anda couldn't have had a much tougher tie on his Crucible debut than playing seven-time champion Stephen Hendry.
Fellow Chinese player Ding Junhui will fancy his chances more against England's Stuart Pettman.
Six-time world champion Steve Davis takes on Mark King in his 30th Crucible appearance, while Masters champion Mark Selby faces 1997 champion Ken Doherty.
While Davis hopes to enjoy a long run in the competition, he believes the emergence of Liang, Ding and Zhang will be the major talking point at this year's Championship.
"From the point of view of excitement it's about the Chinese players," he said.
"We don't know what Liang is capable of but I don't suppose he's too happy, although I don't imagine Ronnie will be absolutely delighted to play a player who is on the up.
"We also have an unknown quantity in 18-year-old Zhang who has drawn the most established player at the Crucible in Stephen Hendry.
"That's a fascinating match and Hendry will want to get through to prove he's still got a future.
"But he's got a player he's probably never seen before and he certainly wouldn't know him if he walked past him in the street.
"We don't know what he's capable of but Stephen has got to go out and justify his existence as a snooker player."
1st rnd:
John Higgins (SCO) v Barry Hawkins (ENG)
Mark King (ENG) v Steve Davis (ENG)
Neil Robertson (AUS) v Fergal O'Brien (IRL)
Marco Fu (HKG) v Martin Gould (ENG)
Ali Carter (ENG) v Jamie Cope (ENG)
Joe Perry (ENG) v Michael Holt (ENG)
Ding Junhui (CHN) v Stuart Pettman (ENG)
Shaun Murphy (ENG) v Gerard Greene (NIR)
Stephen Maguire (SCO) v Stephen Lee (ENG)
Peter Ebdon (ENG) v Graeme Dott (SCO)
Mark Allen (NIR) v Tom Ford (ENG)
Ryan Day (WAL) v Mark Davis (ENG)
Mark Selby (ENG) v Ken Doherty (IRL)
Stephen Hendry (SCO) v Zhang Anda (CHN)
Mark Williams (WAL) v Marcus Campbell (SCO)
Ronnie O'Sullivan (ENG) v Liang Wenbo (CHN)
The matches start at Sheffield's Crucible Theatre on April 17.