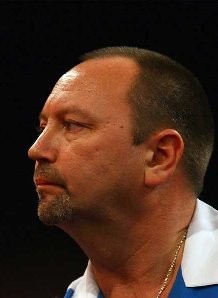 Gary Mawson - Former Finalst
Amateur hopefuls take on the big names in FA Cup of Darts
Amateur darts players from around the country get their chance to upset the big names on Thursday when the UK Open gets underway in Bolton.
The Rileys Darts Zones UK Open begins on Thursday night at the Reebok Stadium, and the four-day tournament, screened live on Sky Sports HD, pits the leading 96 professional players against 42 amateur qualifiers.
Play in the unique event, known as the FA Cup of Darts, is being held on eight stages simultaneously in the early rounds.
While the likes of reigning champion Phil Taylor, James Wade, Simon Whitlock and Mervyn King enter in the third round, Thursday's opening rounds see unknown amateurs pitted against nervous professionals at the Reebok Stadium.
The £200,000 event will kick off when Gary Mawson, the American who reached the UK Open final two years ago, takes on 26-year-old Ashley Whisker, a tractor driver from Essex who won through the Rileys Amateur Qualifiers to earn a spot in Bolton.
"I don't know anything about him other than that he's a friend of Steve Maish's from Essex," admitted Mawson, a fans favourite at the Reebok Stadium whose parents hail from Bolton.
Qualified
"He's obviously a good young player to have qualified but it doesn't matter. It's all about me and what I do when we get on stage.
"It's a venue I love and one where I had success a couple of years ago, and I'm really looking forward to it."
The preliminary round also features former World Championship quarter-finalist Darren Webster up against Birmingham-based Andy Hutchings, a HGV driver for Royal Mail nicknamed "The Postman".
Germany's Jyhan Artut, who knocked Wayne Mardle out of the Ladbrokes.com World Darts Championship in December, takes on Coventry's Kevin Dowling and Gibraltar's Dylan Duo faces Dean Stewart, one of 32 the Rileys Amateur Qualifiers who won through knockouts held in Rileys Darts Zones across the UK.
The first round matches include former World Champion Richie Burnett up against Chorley's Louis Blundell, a Las Vegas Desert Classic qualifier last year, while 20-year-old Joe Cullen takes on Lancashire's Darren Latham.
Muffin Man
Coventry-based muffin baker Steve Hine faces Ian Gleeson, one of ten BDO County Qualifiers for the event, while Irish debutant William O'Connor faces Rileys Qualifier Stuart Monaghan, a part-time rugby league referee who also competed in Bolton last year.
Thursday night also sees several top names enter at the second round stage, including Peter Manley, Wayne Mardle, Steve Beaton and Robert Thornton.
Manley, who was sidelined for a month earlier this year with a heart problem, takes on St Helens teenager Michael Smith, while Mardle faces Ireland's Mick McGowan on the main stage in his first televised appearance since his World Championship loss to Artut, who was at the time a debutant qualifier.
Beaton drew either Noel Grant or Ricky Evans, a pair of Rileys Qualifiers who meet in round one, while Thornton is up against Mark Wilson or Paul Gibbs.
Former World Championship finalist Kirk Shepherd faces Adrian Gray on the main stage, while highly-rated youngster Arron Monk joins father Colin in the field, with the 20-year-old facing Stourbridge's Nick Fullwell.
Alex Roy, twice a quarter-finalist in the Bolton event, takes on Yorkshire's Mark Lawrence, who made it through to the last eight a year ago before losing to Phil Taylor.
The 32 second round winners will go into the draw for the third round at the end of Thursday's play, with reigning UK Open champion Phil Taylor, 2008 winner James Wade amongst the 32 players entering at the last 64 stage.
Play will progress through the last 32 and last 16 on Saturday before Sunday sees the quarter-finals, semi-finals and final spread across two sessions at the Reebok Stadium, with the eventual champion taking home £40,000.
Have a look at our Eclipse TV dartboards by clicking the link below:
http://www.blackpoolsnooker.co.uk/products/darts-and-accessories/dartboards-cabinets-mats-products.html