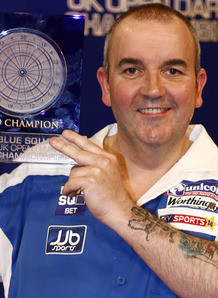 A dominant Phil Taylor spoke about all things darts after claiming his fourth UK Open title in Bolton on Sunday - the latest win in his bid for a clean sweep this season.
'The Power' just seems to be getting better and better after adding the UK Open to his Premier League crown by beating Gary Anderson in the final of the 'FA Cup of Darts' at the Reebok Stadium.
Despite approaching 50, Taylor is still a cut above the rest and the 15-time world champion shows no signs of slowing down now, as he explained his secrets on Sky Sports News.
"It's massive for me," said Taylor. "I'm trying to keep striving to improve and keep getting better, and I love every single win that I get now.
"In every walk of life you have to keep trying to get better. But I enjoy it, that's the main secret with me."
Above average
Taylor topped his best ever televised match average with a staggering 118 in his 8-0 whitewash of Kevin Painter en route to the final - but he says most players can match that away from the spotlight.
"We have tournaments every week and the players play like that all the time," he added. "Players are doing averages like that every week, but it's more difficult because it's on TV, you can't control the crowds and you've got to do it under pressure."
And how does Taylor handle the pressure?
"It's just the experience I think, I'm 50 this year so I've been doing it for 30 years and I'm used to it. There are a lot of youngsters coming through now but they haven't got the experience of being under pressure, I've done it before and come through it and that helps."
The UK Open is unique in the fact that the quarter-finals, semis and final are all played on a long final day of action.
Long day
"It's very warm in there, very hot," said Taylor. "You're on your feet about 12 hours, its tiring but it's not like carrying bricks up a ladder or anything like that, trust me - and we get paid well as well."
Sctosman Anderson again showed his potential with a run to the final but, although he has the game to be world champion, Taylor says he needs to step up his practice regime.
"It's great for us as we need a Scottish player to break through," he said. "Gary's a very, very good player but he's not reached his full potential yet.
"He's one of those players you could strangle because he's so good but doesn't realise it. He needs now to dedicate himself and knuckle down because the lad could be a multi millionaire.
"He has got the game to be a world champion without a shadow of a doubt but at the minute, no he won't win it yet.
"Gary really is a good player but he's not dedicated and he lacks in confidence, he needs somebody round him to keep pushing him forward and give him confidence."