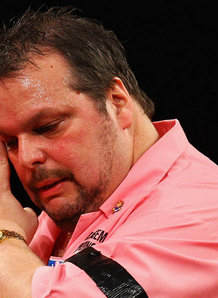 'One Dart' the biggest name to fall on day one of the UK Open
Peter Manley was the biggest casualty on the opening night of the UK Open at the Reebok Stadium, Bolton on Thursday night.
'One Dart' slumped out in his first match against St Helens teenager Michael Smith, crashing 6-3, although the rest of the big names entering at the second round stage made it through.
Former world championship finalist Kirk Shepherd overcame a stiff examination against Adrian Gray on the main stage, Gray missing five darts at a double against the throw to take a 5-4 lead.
Shepherd took full advantage of the slip, nailing double four before taking out the next leg in only 10 darts.
And there were few worries for Wayne Mardle, who cruised through 6-2 against Mick McGowan.
"I've been playing so well but every time I go out there I'm a bag of nerves," Mardle told Sky Sports. "I'm trying to show everyone how well I'm playing but I've just got no composure at all.
"I can still win games, so it's not like I've lost the plot. But it's converting those positions into wins.
"I should be feeling positive, and I am. But get me up there and I'm like the people who used to be scared up there playing me.
"Sometimes you've got to realise you're not the player you were. For some legs I am, it's just putting it all together."
Meanwhile, both Colin Monk and son Arron made it into the third round.
Monk Snr defeated Darren Johnson 6-4 before nervously looking on as Arron edged past Nick Fullwell 6-3.
"It was alright to start of with but when it came down to the nitty-gritty I lost my bottle big time," said the 20-year-old.
"It's so open on the big stage, everyone behind you - so nerve-wracking."
Asked if he fancied playing his Dad in the next round, Arron admitted: "No chance!"
To buy Peter Manley's Golden darts click on the link below:
http://www.blackpoolsnooker.co.uk/products/darts-and-accessories/unicorn/steel-tip/maestro-golden-terry-jenkins-90-2-product.html