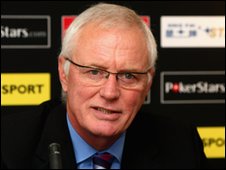 Barry Hearn has been handed control of World Snooker after prevailing 35-29 in a vote by the world's top 64 players.
Hearn will resign as World Professional Billiards and Snooker Association chairman to take a 51% controlling share in the commercial business.
"I will make sure that give 100% every day to bring it to the level at which it should be operating," he said.
Businessman and former Olympic shooter John Davison was also in contention and had the support of Stephen Hendry.
"We congratulate Barry on securing the votes of the playing members of the WPBSA and wish them and all the stakeholders all the best of luck in the future," Davison said in a statement.
Hearn has pledged that prize money will rise from £3.5m in 2009/10 to £4.5m in 2010/11, and has also promised to return control to the WPBSA if he fails with his venture.
Next season's calendar includes a variety of new tournaments, including a quick-fire Shoot-Out event, a ranking event in Germany, a World Seniors Championship and a Player Tour Championship series.
Hearn intends that players and other stakeholders in the sport will own the remaining 49% of World Snooker, which is due to become an independent business.
"I'm delighted by the outcome," he said. "I do not underestimate the challenges that lie ahead, but for the moment snooker is united and the future looks rosy.
Three-time world champion Ronnie O'Sullivan is a fan of Hearn, but Peter Ebdon was the fiercest public voice of dissent, saying players "cannot possibly back" his ideas and that Hearn was asking players to hand over rights which are worth "millions each year".
Davison, who failed with a similar takeover bid in 2002, proposed to take a 63% stake in World Snooker, which would give him power for an initial period of 15 years.
He had hoped to swing the vote with his promise of £5m prize money, £500,000 more than Hearn promised.
Hearn, who had said if his plan was rejected he would walk away from snooker, was sceptical about his rival's credentials prior to the vote.
"John Davison is an excellent investment adviser but there's a world of difference between running that and the world of professional sport," Hearn told BBC Sport last week.
"It's a question of who the players think can do the best job for snooker. I think I can offer something very special to the world of snooker.
"There are big hurdles in front of snooker in terms of revitalising the sport and the integrity of the game. We can't afford to let this situation go on."
Davison competed in men's skeet shooting at the 2000 Olympics, missing out on a place in the final.
In his professional life, he became a partner of private equity firm Bridgepoint, before retiring last year.
He turned down an invitation to attend the Extraordinary General Meeting on Wednesday after claiming his bid was not being afforded the same platform as the proposal from Hearn.
Hearn, who has had business success across sports including darts, boxing and golf, had a high profile in snooker during the 1980s, when he was the manager of Steve Davis and other leading players.
He returned to the sport in December when he was a popular choice as chairman of the World Professional Billiards and Snooker Association, with six-time world champion Davis also co-opted onto the board.
Blackpool Snooker: It makes you wonder what the 29 were thinking, do they not see what's happened to darts? Can they not see what has been happening to snooker for so long?
Need a new cue case? Click the link below:
http://www.blackpoolsnooker.co.uk/products/cue-cases-products.html