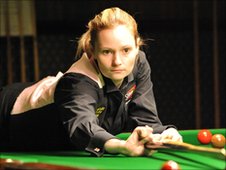 Reanne Evans lost 4-2 to China's Liu Chuang in the Players Tour Championship on her professional tour debut.
The 24-year-old ladies' world champion is the first woman to compete on the main circuit for 15 years.
The six-times world title-holder was given a wild card to the professional tour after winning her last 61 matches.
Evans, the first woman on the circuit since Alison Fisher, said ahead of her debut in Sheffield: "It's the biggest challenge of my career."
She added: "The standard will be really high. I'm going to try my best and just enjoy it - whatever happens it will be a steep learning curve for me.
"It's so hard to stay on the tour, but that's what I'm hoping for. I'm practising with a few different pro players to get as ready as I can.
"Being on the tour has given me the incentive to push myself as hard as I can."
Evans, from Dudley in the West Midlands, is not one to shirk a challenge, winning her 2006 world title while seven months pregnant with daughter Lauren, whose father is her former partner Mark Allen, the men's world number 10.
She also enjoyed a 4-3 win over John Higgins at last year's Six-Red World Championship in Ireland, sealing victory with a 50 break in the deciding frame.
This article was taken from bbc.co.uk/sport.
Blackpool Snooker Company supply Snooker Tables, Snooker Cues and Snooker Accessories which are available online or from our retail shop in Blackpool.