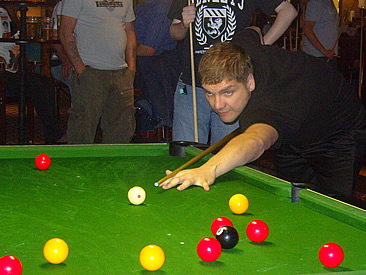 Mick Hill avenged last year's Foster's world final defeat but still has plenty of work to do in order to become singles champion for a second time.
The 2004 King of Blackpool defeated title holder Phil Harrison 10-8 after an epic contest at the Imperial Hotel.
He now meets Gareth Potts or Craig Waddingham for the £10,000 first prize.
"In a way there is more pressure on the semi than the final," said Black Country born Hill.
"No one wants to lose at this stage. In the final, you know you've already copped a few quid and can enjoy the game.
"I didn't really look at it as revenge for last year. But I was quite nervous before the game.
"Before last year's final, I usually beat Phil. But then I lost the title, he beat me on a Tour and all of a sudden you begin to doubt yourself.
"So, to get this win shows you can still do it," added Hill who hit back from 3-1 down to lead 6-3 at halfway.
However, Harrison defended his title with great courage.
Watched by his parents for the first time in two decades, the Ely window cleaner battled back to 9-8.
Hill then almost made a disastrous last break, the cue ball hurtling towards a centre pocket before it stopped safely.
"I was swearing under my breath," said Harrison,managing a smile.
"But I am pleased with how I played. In previous years I might have fallen over in the semis.
"I missed a couple of balls but overall I am quite happy.
"It's just a pity I couldn't have got to the final so my girlfriend and son could have seen me play.
"My mum and dad haven't watched me play since I was a junior.
"So, it would have been great to win for them."
This article was taken from World Eightball Pool Federation.
Blackpool Snooker Company supply pool cues and pool accessories
Why not subscribe to our newsletter and be the first to receive our latest promotions and special offers giving you the option to purchase your desired products at a discounted price.