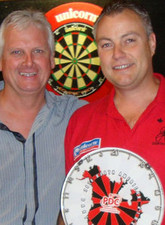 Former world champion John Part hopes his North American victory can help kick-start his flagging season.
Three-time world champion Part has struggled in 2010 and has tumbled to the edge of the world's top 32 with a run of only two PDC ProTour quarter-finals and one final so far, plus a last 64 exit in the Rileys Darts Zones UK Open.
The Canadian did find some form in Las Vegas as he claimed the North American Darts Championship with a win over Darin Young in the final.
Part had tumbled out early in the first three events in Vegas, but hopes his victory will now kick-start the rest of his campaign.
"I've never in my career thought I wasn't playing well - whether I was right or wrong - and I guess this win helps validate that," Part said.
Form
"I thought I played better in other days during the week than in the event I won, but somewhere you have to learn the difference between playing well and winning.
"Even champions have to go through that sometimes because you can forget how to win. Maybe I have a little bit, but this will help me."
Part will miss out on the upcoming World Matchplay in Blackpool, but believes his win in America will stand him in good stead for the rest of the major tournaments.
"I started the week against Darin in the World Cricket Championship and he won what I think was a higher-quality match, and the second time I got the win," said Part.
"You get frustrated as a player. You think you're playing well and sometimes you deceive yourself because you're not playing well.
"I lost to a lot of talented players and I was beaten fairly by every player I faced this week. In the 32nd seed place for the Players Championships I thought it would be Phil Taylor who would beat me, but it wasn't because there are so many good players now.
"That's a terrific thing because the circuit is so strong."
American rivals
The event itself gave Part a rare chance to compete with some of his rivals from Canada and America, one which he relished.
"Normally I am playing with all the top pros, but this was exclusively a north American event doesn't happen very often," he added.
"I played a lot of friends who I've known for a long time and played many times, like Shawn Brenneman, Chris White, Gary Mawson and Darin Young. It was an emotional day and not easy to play.
"I was very lucky to win the semi-final against Gary Mawson, which was always going to be a hard match because we've been friends for so long.
"He had me dead and buried and I got away with it, and maybe there was a touch of luck that I won - and I haven't felt lucky all week until now!"
Blackpool Snooker Company provide Darts and other related products across the Fylde coast and most of Lancashire.