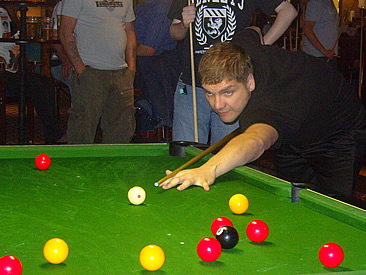 Mick Hill's decision to turn his back on American Pool to return to his English roots paid off in Blackpool tonight.
The Dudley born star ended a six year wait to double up his solitary Foster's World 8-Ball title with an 11-8 victory over Stoke potter Gareth Potts.
Hill avenged his defeat in the 2007 showpiece and stopped Potts winning a fourth world crown.
He also becomes the first player in the history of the sport to win the Foster's World title and World Masters in the same year.
Indeed, Hill remained unbeaten in a total of 14 matches in the two events.
His back to back wins at the Imperial Hotel were worth £15,000.
"I have never been as focussed or as happy at a tournament as I have been here this week," said the delighted 30-year-old who, until recently, spent six months on the 9-Ball circuit.
"The saying 'you don't know what you have got until its gone, couldn't be more true regarding me and 8-Ball pool.
"Who knows whether I will pick up American Pool again in the future.
"But for the time being I am going to stick with 8-Ball.
"When I won my first world title I was convinced I would have this purple match and win four or five world titles.
"And because I did it once early, people expected me to win more.
"So, I'm pleased for a number of reasons.
"You start to wonder whether you can do it when I am under it.
"So, it's a big thing to prove to yourself you have still got it.
"You always know Gareth is going to come out playing well in a world final.
"And in the last couple of finals I've had a stinker.
"That's not happened so I am going to savour this victory and the World Masters.
"To do the double is great. If it ever happens again, then fantastic for that person.
"But it can never be bettered.
"Someone can win 10 world titles but I have done something that may never be done again.
"And this ranks higher than when I won the three tours again."
There was never more than two frames between the duo in one of the highest quality finals in the history of the event.
In fact, probably only Chris Melling's breathtaking victory over Jason Twist in 2003 topped tonight's showpiece.
Potts led 2-1 and 5-4 but trailed 8-6. He fought back to 8-8 only for the 'Machine' to claim the last three frames.
This article was taken from World Eightball Pool Federation.
Blackpool Snooker Company supply pool cues and pool accessories
Why not subscribe to our newsletter and be the first to receive our latest promotions and special offers giving you the option to purchase your desired products at a discounted price.