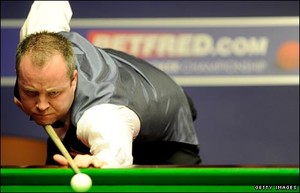 Findings of the investigation into match-fixing allegations made against John Higgins will be handed to an independent tribunal next week.
The three-time world snooker champion and manager Pat Mooney have denied agreeing to throw frames for £261,000.
And snooker chief Barry Hearn insists that lifetime bans for breaking any of the sport's rules are not the answer.
"I do not believe in them, but I do believe in lengthy bans," Hearn told BBC Scotland.
Hearn, chairman of the World Professional Billiard and Snooker Association, did not wish to prejudge the findings of the investigation.
However, he stated: "It's our duty as the custodians of the sport to firstly educate, secondly dissuade and thirdly to punish should the rules be broken."
The claims against 35-year-old former world champion Higgins and Mooney, who quit the WPBSA board as a result of the allegations, were published by a Sunday newspaper in May.
If found guilty, the pair, already suspended by World Snooker pending the outcome of the investigation, face lengthy bans from the sport.
Sport Resolutions UK, an independent dispute resolution service, will be handed the findings of an investigation carried out by the WPBSA into the allegations.
Higgins and Mooney will then have 28 days to make representations before a hearing takes place.
The allegations that have rocked snooker surfaced on the morning of the World Championship final.
The News of the World claimed had said that it had filmed Higgins and manager Mooney agreeing with businessmen in Ukraine to lose frames in exchange for money.
A spokesman for Higgins on Friday reiterating the player's determination to prove the allegations were unfounded.
"John Higgins is completely focused on clearing his name and his legal team will vigorously defend any professional complaint made against him relating to this issue," he said in a statement.
Hearn is now the leading man organising world snooker
"We would remind everyone of John's earlier statement: 'I have never been involved in any form of snooker match fixing. In my 18 years playing professional snooker, I have never deliberately missed a shot, never mind intentionally lost a frame or a match'.
"John Higgins is unwavering in his commitment to snooker - the sport he loves."
The WPBSA investigation is being carried out by its head of discipline David Douglas.
The former Metropolitan Police detective chief superintendent will then pass his findings on to Sport Resolutions UK.
Douglas said: "Sport Resolutions deals with cases in various sports and is named in WPBSA disciplinary rules.
"It is completely independent of the WPBSA and we have no doubt that it will bring a fair conclusion to this matter."