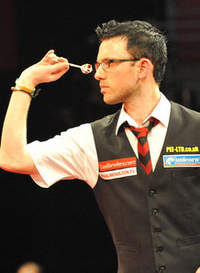 Colin Osborne and Paul Nicholson have both been fined by the Darts Regulation Authority's Disciplinary Committee.
Nicholson was fined £1,000 for behaving in a manner which may reasonably be considered to bring the game of darts into disrepute by acting in a threatening manner and making inappropriate gestures towards the crowd during a television broadcast, contrary to Section 4.1 of the DRA Code of Conduct.
The DRA Disciplinary Committee took account of the fact that Nicholson, through the DRA, apologised to both the PDC and Sky Sports for any harm caused to the sport.
However, in the light of a previous finding of guilt in 2009, the DRA has warned him that any such further indiscretion will lead to an immediate suspension from DRA sanctioned events.
In addition, the DRA have fined Colin Osborne £100 for failure to mark at a Players Championship event in Austria in May.
The DRA have also ruled that Toon Greebe, who has not paid a £100 fine for failure to mark at a PDC ProTour event in Crawley in March, will be unable to enter any DRA sanctioned event until the Disciplinary Committee hears the further offence of failing to pay a fine within the given time period.
All players have the right of appeal, and any appeal must be made within 14 days. All money raised from players' fines is used to support the DRA Drug Testing Programme.
Blackpool Snooker Company provide Darts and other related products across the Fylde coast and most of Lancashire.