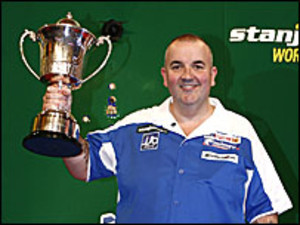 Phil Taylor secured an 11th StanJames.com World Matchplay title after a convincing 18-12 victory over Raymond van Barneveld in Sunday's final.
The Power produced a clinical and consistent performance, highlighted by a pair of 100+ finishes to scupper his opponent's two fleeting chances to level the contest in Blackpool.
Van Barneveld also provided some flashes of brilliance, but could not keep up with Taylor's sustained scoring during the race to 18 legs.
"I'm absolutely over the moon," a delighted Taylor told Sky Sports after the conclusion of the final.
He added: "I'm 50 years old next month, and I'm champion of the world.
Loving it
"Listen, I really don't care what people think about me, whether they love me or whether they hate me but I'm on top of the world (and) I'm loving every minute of it."
Van Barneveld threw first and coolly took the first leg before Taylor clinically checked out 79 as both players signalled their intentions in the early stages.
Taylor narrowly missed a 142 finish in the next leg as van Barneveld again edged ahead only for Taylor to hit back on his own throw.
Both players held throw again before Taylor broke the stalemate in the seventh leg with a finish of 80 then consolidating the break in the next leg.
Massive favourite Taylor did not go on to pull away, however, as his Dutch opponent recovered from the setback to peg the deficit.
It was during this period that both Taylor and van Barneveld moved up through the gears as they upped their averages to above 106 and 104 respectively.
Chance
Van Barneveld saw a chance to level the match slip away as Taylor checked out 105 to hold his throw with the Dutchman lurking on a double 12 finish.
The situation was repeated in the 18th leg as van Barneveld again had the 15-time world champion under pressure, only for Taylor to produce a sensational 135 finish.
It was a cruel blow for the 2007 world champion, who then lost his throw in the next leg as Taylor hit double eight to open up daylight at 11-8.
However, van Barneveld nullified the extra advantage straight away with a wonderful finish of 136 to bring the deficit back to two legs.
But Taylor pounced again in the next leg and this time consolidated the break to open up a commanding four-leg lead.
With the reigning champion cruising toward victory at 16-12, the contest was well and truly killed off when Taylor hit double 16 to break his opponent's throw again.
The contest was ended in the next leg as Taylor calmly checked out 64 to secure his third consecutive World Matchplay title.
The 'Power' was using his golden 'Phase 5' darts to win the StanJames.com world matchplay, if you would like to buy the exact same darts Phil used click here