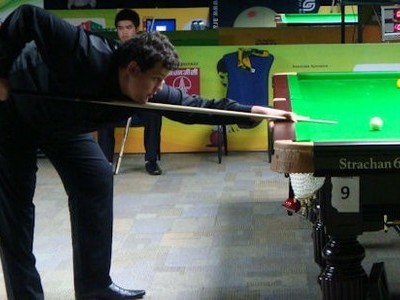 Brazil's Igor Figueiredo scored a 3-0 win over David Gilbert at the World Open qualifiers to earn a meeting with twice World Champion Mark Williams...one of three additional matches to be held over to the SECC in Glasgow.
The three extra matches to be held over to the venue are:
Saturday, September 18, evening session: Shaun Murphy v Dave Harold

Sunday, September 19, afternoon session: Mark Williams v Igor Figueiredo

Sunday, September 19, not before 7pm: Jimmy White v Paul Davison (this match will be the first of the evening session, swapping with Mark Selby v Barry Hawkins)
Figueiredo, the 32-year-old World Amateur finalist playing his debut season on the pro tour, knocked in a top break of 88 in a fine win over Gilbert to reach the last 64 and become the first Brazilian to qualify for a ranking event venue.

Glasgow's Marcus Campbell kept alive his hopes of qualifying for his home tournament with a 3-0 win over amateur Daniel Wells, but Edinburgh's Craig MacGillivray fell to a 3-0 defeat against James Wattana, who made an 86.

PTC3 finalist Jack Lisowski went down 3-1 to Andy Hicks, while Irishman David Morris knocked in a 101 in a 3-1 win over Rob Milkins.
With the World Open being played in Scotland why not take a look at our Scotland Flag Cue and Case sets