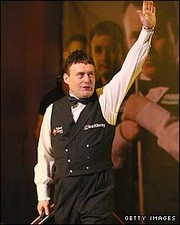 Snooker Tables delivered and installed by Blackpool Snooker
Jimmy White has qualified for the World Open but Mark Allen has missed out on a place in the revamped competition.
Veteran White, 48, will join Ken Doherty, who beat Joe Perry, in the finals in Glasgow, while Allen, world number 10, lost out to James McBain.
The season's second ranking tournament, formerly the Grand Prix, will feature best-of-five matches and a random draw for each round from 18-26 September.
World finalists Neil Robertson and Graeme Dott will face each other again.
It is nearly four months since Australian Robertson overcame Dott 18-13 in the early hours of 4 May at the Crucible to become world champion and the pair will reignite their rivalry on 18 September in the opening round.
The random draw also pitched world number two Ronnie O'Sullivan with Mark King, while six-time world champion Steve Davis, fresh from his stunning run to the quarter-finals in Sheffield in May, will play Peter Ebdon.
Glasgow will welcome a number of snooker veterans, rising stars and a number of unfamiliar faces thanks to the innovative qualifying format.
As part of the overhaul of the sport's calendar and some of the tournament's formats by snooker chief Barry Hearn, the knock-out entry rounds to the World Open involved players from local clubs facing four international qualifiers, two players from the ladies' tour and two seniors.
Six-time world finalist White, who narrowly avoided dropping out of the all-important top-64 rankings last season, beat Ireland's Michael Judge 3-0 to set up a clash with Paul Davison, while 55-year-old Tony Knowles from Bolton fell at the first hurdle.
Doherty, world champion in 1997, survived a last-frame decider to see off Perry, who recently fell to 17th in the rankings, 3-2 to book his spot at the SECC Arena.
Scotland's Stephen Hendry, seven-time world champion and still in the top 16 at the age of 41, is desperate to impress on home soil, especially having failed to get beyond the quarter-finals of any of last season's six ranking tournaments.
"That's not the kind of consistency I'm looking for, it's about winning titles," said Hendry, who last won a ranking title in 2005.
Australian Neil Robertson clinches world crown in May 2010 (UK only)
"I'm always enthusiastic when the new campaign comes around, so I just have to keep trying and see what happens."
"It's the one tournament we have in Scotland, and with the new format there's no doubt it's going to be exciting."
Another intriguing tie will see resurgent Welshman Mark Williams, world champion in 2000 and 2003 and now sixth in the world after a lacklustre few seasons, take on 32-year-old Igor Figueiredo.
Figueiredo, a world amateur finalist based in Gloucester, had to come through two qualifying rounds to become the first Brazilian to secure a spot at a ranking event.
The competition's new-look format is one of a number of changes introduced for the new campaign by Hearn after being handed control of the governing body by a player vote in June.
The 2010-2011 season will include a quick-fire shoot-out event, a ranking event in Germany, a World Seniors Championship and a Player Tour Championship series.
Hearn is also trying to improve the reputation of a sport that recently took a battering during the world championship amid allegations of match-fixing by world number one John Higgins.
Higgins, the currently suspended three-time world champion, has denied any wrongdoing and has vowed to clear his name with the outcome of the investigation set for early September