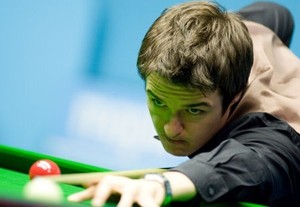 Michael Holt won his first match of the season, at the seventh attempt, beating PTC3 winner Tom Ford 4-3 at the Paul Hunter Classic.
Hitman Holt had been floored in the first round of the first four PTC events as well as the Roewe Shanghai Masters and World Open qualifiers, but the Nottingham pro finally got his season going. He came from 2-0 down to lead 3-2 with a top break of 83 and eventually won the decider 62-42.

PTC1 winner Mark Williams eased to a 4-0 win over Robert Sax with 72 and 71 while PTC2 champion Mark Selby saw off Tomasz Skalski 4-1.

Germany's top player Patrick Einsle started with an even 100 in a 4-1 defeat of Florian Moederschein while Barry Hawkins closed with a 143 in a 4-1 success against Willem Monfils.
Fancy a change? Have a look at our Guinness range of cues & case