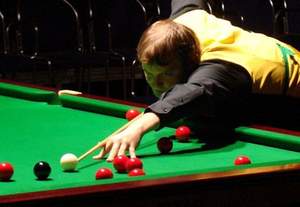 PTC Order of Merit leader Barry Pinches fell at the first hurdle of the Paul Hunter Classic, beaten 4-3 by Rob Milkins.
Norwich cueman Pinches beat Ronnie O'Sullivan in the Star Xing Pai PTC4 final earlier this month, but couldn't get the better of Gloucester's Milkins at EPTC1 in Furth.

German fans have flocked to the event, with tickets sold out for Saturday and Sunday. Jimmy White drew the biggest crowd so far today and rewarded his supporters with a 4-0 victory over Michael Seidel.

Belgian prodigy Luca Brecel scored a 4-2 win over World Open qualifier James McBain while Stoke's Dave Harold beat female pro Reanne Evans for the second time this season, 4-1 with a top break of 105.

Kyren Wilson knocked in a 76 in a 4-0 defeat of Kurt Maflin while Jamie Cope edged out Ian Glover 4-3 and Brazil's Igor Figureido saw off Deniz Anar 4-0.