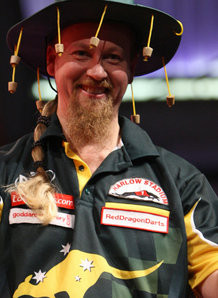 Simon Whitlock admits that his troublesome heel injury has flared up again and is giving him some concern for the rest of the season.
The Australian has been suffering from the problem since January, but it has reared up again in recent weeks and is causing him some pain.
The Wizard of Oz sometimes has to change his stance at the oche to keep the weight off the heel, and he is worried that it may worsen.
Whitlock says he had been pain free for most of the Premier League, but it returned before last week's match in Birmingham - although he still managed to beat Mervyn King.
Nevertheless, Whitlock is concerned about his injury as he looks to build on his World Championship final appearance.
Flare up
"It's flared up again," said Whitlock. "I got through the game against Mervyn and tried not to worry about it and it didn't hurt me during the match.
"But it's a big worry for me and I've got to get it seen to just to find out what the problem actually is. Dart players don't get many injuries and it's a first for me. I've never had a foot problem before and it worries me."
Whitlock has also changed the stems on his darts recently in a bid to regain the form which took him to the final at Alexandra Palace, and was delighted with his form against King.
"I've made a slight adjustment on my darts," he said. "I changed shafts a week ago and it's working fantastically, my darts feel really good at the moment."
Whitlock takes on Ronnie Baxter in Cardiff in week eight of the Premier League, and hopes the pain will not prevent him from securing another vital win.