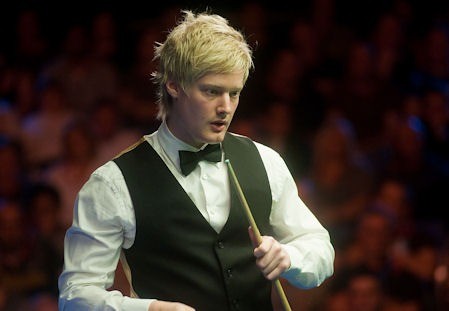 Australian Neil Robertson defeated six times champion Steve Davis 13-5 to book a semi-final spot for the second consecutive year at the Betfred.com World Championship
Steve Davis stood waiting to be introduced for the final session of this quarter-final with Neil Robertson.
The MC started the big build up, the crowd ready to give the six times champion a hearty reception at the Betfred.com World Championship.
In all the excitment MC Rob Walker, introduced Steve Davis as Dennis Taylor.Everyone burst into laughter, with Walker deeply embarrassed by his error.
Steve Davis was clearly amused by it as both he and Walker shared the error in good fun.
Davis went to his seat and after he borrowed a pair of glasses from a spectator, he put them on upside-down replicating the Dennis Taylor look.
After the joviality had finished the players got back to the job at hand.
'Legend' Davis kept the show alive. Winning the first with a competent 59 break.
Robertson obviously not wanting to get wrapped up in the emotions of the encounter sat in his chair, eyes closed trying to focus.
Focused he was and put an end to the fairy-tale. He seized the match and booked his place in the semi-final with a frame
and match winning 107, wrapping up a comfortable 13-5 victory.