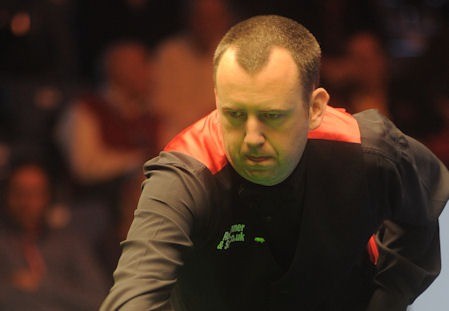 Mark Williams reached his first ranking final in four years by coming from 3-1 down to beat Ali Carter 6-4 at the Sanyuan Foods China Open.

The resurgent Welshman, who dropped out of the top 16 last season but is now back among the elite and getting towards the form which won him two World titles, will face Ding Junhui over 19 frames at the Beijing Students University Stadium tomorrow for the trophy and £55,000 top prize.

It's his first final since he beat John Higgins 9-8 at the same venue four years ago. Williams clearly has a liking for playing in the Far East as he has already won three ranking events in Thailand and two more in China.

Carter, who was bidding to reach his second consecutive ranking final having lost to John Higgins at the totesport.com Welsh Open, won the first frame tonight with a break of 53 and added the second with a yellow-to-pink clearance after Williams has missed the yellow with the rest.

Williams trailed 47-29 in the next when he enjoyed a stroke of good fortune, fluking the penultimate red with a cross double and nudging the last red and black away from the top cushion, which allowed him to clear. Carter went 3-1 up with a 58 before Williams got the better of a scrappy fifth frame then made a 66 to level.

A run of 62 put Williams ahead for the first time, then Tiptree's Carter dominated a fragmented eighth for 4-4. But it was Williams who proved stronger in the closing stages as runs of 59 and 68 proved enough.

"That's probably as good or even better than my first three wins," said the man from Cwm. "For the first four or five frames I wasn't playing that well, but I just said to myself 'hang in there and hope it turns around.' Towards the end I played some good stuff.

"We were playing with a light white, it was like a table tennis ball. We had to change it twice and the third one was ok. I'm happy with the way I dug in there and managed to win without playing well.

"Ding will be favourite to win tomorrow, he's won a tournament already this season and he's playing in front of his home crowd. I don't feel pressure whether it's playing Stephen Hendry in Scotland or Ding in China. It's just nice to be back in a final and getting a few ranking points."

Williams revealed that one thing that may count against him tomorrow will be the fact that he has been on British time all week. "All of my matches have been in the evening so I've been going to bed at 7am and getting up at 4pm. So I need to change that now and somehow get some sleep."