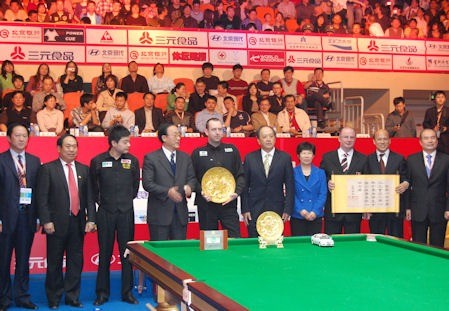 Mark Williams is up to seventh place in the latest world rankings following his victory in the Sanyuan Foods China Open.
The Welshman beat home favourite Ding Junhui 10-6 in the final in Beijing tonight (Sunday) to win his 17th ranking title and first in four years.
The 35-year-old moved up two places to seventh in the provisional list, with only the Betfred.com World Snooker Championship to go before the official rankings are revised.
ďMy biggest goal for the season was to keep my top 16 place, so itís great to have that as well as a title before Sheffield,Ē said Williams, who has now won six ranking events in Asia.
Ding missed out on his fifth ranking title, and second of the season, and climbs two places to fifth.
The race for the official No 1 slot in 2010/11 is over as John Higgins cannot by caught by Ronnie OíSullivan, a first round loser in Beijing.
Ali Carter made the semi-finals and is up to third. Mark Allen also lost in the semis and heís up two places to tenth.
Peter Ebdon allayed his fears of dropping out of the top 16 with a run to the quarter-finals and he climbs three spots to 15th.
Nigel Bond was the only qualifier to reach the last 16, and heís rewarded with a leap of five spots to 37th.
Thailandís James Wattana and Belgiumís Bjorn Haneveer both won four matches to qualify for the venue. Wattana flies up eight spots to 75th while Haneveer is up ten places to 67th.