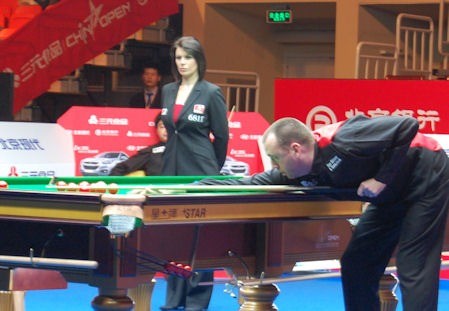 Mark Williams confirmed, beyond doubt, his return to form by beating Ding Junhui 10-6 in an outstanding Sanyuan Foods China Open final in Beijing.
In terms of standard of play it most go down as a classic, with 15 breaks over 50 within the 16 frames. Neither player missed more than a handful of pots over the contest, but in the end it was Williams who proved stronger as he came from 5-3 down to win seven of the last eight frames.

The taste of silverware - or in this case a golden shield plus a cheque for £55,000 - has been a long time coming for the 35-year-old Welshman. His last ranking title came at the same venue four years ago when he beat John Higgins 9-8 in the final. A severe dip in form followed which saw him spend one season outside the top 16.

Relentless practise and a steady flow of revived confidence have seen him get back into the elite, and indeed he is up to seventh in the provisional rankings. But it's trophies he craves and the likeable left-hander will feel a mixture of delight and relief in landing his 17th ranking title.

He faces a tough draw in the Betfred.com World Snooker Championship next month, with Ronnie O'Sullivan a potential second round opponent, but will have no doubt in his own mind that he has what it takes to win a third Crucible crown.

His trademark single ball potting and exceptional touch at close range, not to mention his laid back character which gives him a rare calmness under pressure, have helped Williams to win a sixth ranking title in Asia and third in China.
He's the fifth different winner in five ranking events so far this season and extended his tremendous strike rate in ranking finals to 17 wins from 24 attempts.

Ding had a chance to become the only player to win two of those five, having captured the Pukka Pies UK Championship in December. With a partisan crowd behind him, he started favourite today after a series of outstanding displays this week, but after an excellent start to the final, he faded slightly, just as he did in losing 9-4 from 4-4 against Neil Robertson at the Grand Prix in October.

The 23-year-old Chinese ace has beaten Stephen Hendry (2005 China Open), Steve Davis (2005 UK Championship), Ronnie O'Sullivan (2006 Northern Ireland Trophy) and John Higgins (2009 UK) in ranking finals and missed out on adding Williams to a list of scalps which reads like a who's who of snooker.

Still, it's been a fantastic season for the Wuxi-born, Sheffield-based cueman; he has gathered more ranking points than any other player this season and it up to fifth in the latest list, and will also go to the Crucible with high hopes.

Frame 10: Trailing 5-4 after the first session, Williams gets straight back on to level terms with a break of 81.

Frame 11: Ding opens with a run of 56 before missing a red to a top corner at full stretch. Williams responds superbly with a 65 clearance to take the lead for the first time since 1-0.

Frame 12: Back comes Ding with 73 for 6-6.

Frame 13: Williams regains the lead with a run of 64.

Frame 14: It's the first frame without a 50 break, but Williams dominates with three scoring visits to go two ahead.

Frame 15: Ding pots six reds with black before running out of position, and plays a careless safety which lets Williams in for a break of 59, ending when he misses the last red to a centre pocket. He's lucky to snooker Ding on the red, and gets back in but plays a poor shot from yellow to green and has to play safe. Ding has a chance to steal it, but after potting a long green he misses an easy brown, and Williams mops up to go three up with four to play at 9-6.

Frame 16: Williams builds a 52-7 lead, but a missed long red gives Ding a chance to counter. However, he makes just 7 before failing on a short range red, which proves his last shot as Williams adds 23 to clinch the title.