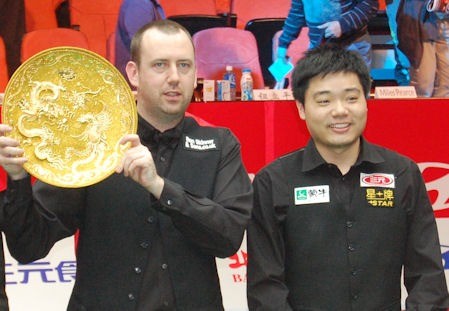 Mark Williams was delighted to be back in the winner's circle after a four-year wait, having won the Sanyuan Foods China Open title.

The Welshman beat Ding Junhui 10-6 in the final at the Beijing Students University Stadium to win his first ranking event since he beat John Higgins at the same venue in 2006.

"I'm over the moon to win again. It's been a long time coming but I've kept working hard and I felt that in the end the results would come," said the 35-year-old, who now has 17 ranking titles to his name including six in Asia. "The match today was a very high standard, we both played well. I felt I was a bit unlucky to lose the first session 5-4, but I knew if I could keep calm and play the way I have been all week, I would have a chance. My attitude all week has been not to let it affect me when things have not been going the right way.

"My safety, my long pots and my break-building have been good and I hope I can take this form now into the World Championship. My biggest goal for the season was to make sure of my top 16 place so it's great to have that as well as a title before Sheffield.

"Ding played well today and if he keeps that up he will be one of the favourites. He is more than capable, and after Ronnie O'Sullivan and John Higgins he is the man to beat. At the end of the match tonight we were asking each other who we are playing in the first round at the Crucible, and I said 'thank God I don't have to play you.'

"I may have more experience than Ding, but I'd not been in a final for four years so that didn't mean much. The pressure was on him because there's a lot of expectation from the crowd, but he handles it so well."

Ding, who missed out on his second ranking title of the season having won the Pukka Pies UK Championship in December, said: "I played very well and didn't make many mistakes. But Mark dominated a lot of frames in the second session, so I had no chance.

"I didn't give up, but it was hard because he wasn't missing. To play a best-of-19 match was good preparation for me for the World Championship and I will try my best there."