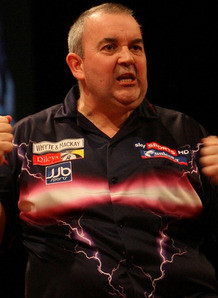 Taylor battles back for draw, King hits out at crowd, Whitlock wins
Phil Taylor came from 7-4 down to rescue a point against James Wade in Thursday's Premier League darts in Sheffield, where an angry Mervyn King also drew with Ronnie Baxter before hitting out at the crowd.
'The Power' looked to be heading to his first defeat of the season as Wade produced some stunning darts to charge into a 5-2 lead at the Sheffield Arena.
15-time world champion Taylor saw Wade secure a point at 7-4, but the veteran held his own throw before breaking after left-handed Wade had missed a double 16 for the match.
Taylor stuck in a 171 in the final leg to set up double eight, and when he nailed that with his first dart he had thwarted the reigning Premier League champion.
"Early doors me and Phil both played great darts, but for the first time ever I'm going to say Phil got away with that one," Wade told Sky Sports after his match. "I just couldn't believe the way things deserted me at the end, but I'm happy to get a point off Phil in the end."
Taylor guaranteed a play-off place with the point, while Wade still has some work to do to get into the top four at Wembley but his 100.5 average and seven 180s bodes well for the coming weeks.
"When you're standing behind James and he's playing like that you've just got to hope that he misses," said Taylor. "And he missed a couple at the end there and gave me the chance to come back.
"I think James is going to qualify though, he's a quality player and he's playing well again so watch out for him now he's got his form back."
Mervyn King launched an angry tirade at the Sheffield crowd after being booed throughout his 7-7 draw with Ronnie Baxter - with 'The Rocket' coming from 6-4 down to lead 7-6.
Last year's runner-up managed to hold his composure though and, after Baxter missed double 18 for the match, King capitalised to scrape a draw, and he displayed his anger to the crowd after grabbing a point.
"What do you expect, I'm up here trying my best to give these fans a show and they're booing me all the time for half an hour," fumed King. "They did not behave like darts fans tonight, they've showed me a complete lack of respect. I've had enough.
"Ronnie's a great player, it's normally a good game so that's what we try and give them, we try and produce the goods, but when you get a lot of idiots here like we had tonight then its hard work."
Raymond van Barneveld suffered an agonising 8-6 defeat against Simon Whitlock after coming back from the dead at 6-1 down to force a deciding leg.
The Wizard of Oz hit finishes of 121, 100 and 154 to power 6-1 in front, but Barney clawed his way back and, in the last leg, missed two darts for a draw to allow Whitlock to take the points and leave the Dutchman bottom of the table.
Terry Jenkins scored just a second win of the season to cling onto any hope of making the top four as he defeated Adrian Lewis 8-5 in the opening match of the night.
The Bull had only previously beaten Lewis this season, and he completed a double over 'Jackpot' to end his six-match losing streak and make sure he still has a slim chance of making the play-offs.