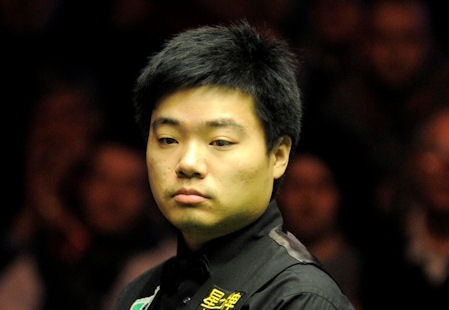 Ding Junhui produced an excellent performance to beat Mark Allen 6-2 and reach the final of the Sanyuan Foods China Open in Beijing.
The 23-year-old Chinese ace moved into his third ranking final of the season, having lost in the Grand Prix in October then won the Pukka Pies UK Championship in December. He will face Mark Williams or Ali Carter tomorrow with the chance to win the fifth ranking title of his career.

Ding, inspired by the support of his army of fans, made a strong start today against an-of-sorts Allen and never looked back.

Breaks of 60 and 67 gave the Sheffield-based player, who comes from Wuxi in south China, the opening frame. Northern Ireland's Allen should have levelled but, clearing the colours in frame two, he played a poor positional shot from blue to pink. Forced to go around the angles to gain position on the black, he finished close to a side cushion and missed his attempted pot, leaving Ding to convert the black.

A fantastic 137 total clearance put the home favourite 3-0 ahead, before Allen got on the scoreboard with a 67. Ding got the better of two scrappy frames for 5-1, and should have sealed victory in the next but missed the last red to a baulk corner, allowing Allen to clear. But any consideration of a fight-back was quickly snuffed out as Ding finished in style with a 125.
"Mark didn't play well, he missed some long balls and gave me chances," said Ding. "Once I was 3-0 up I felt he had lost confidence. This season I have learned to just concentrate on the balls, and that has helped keep my mind clear. I will rest tonight and then try my best tomorrow."

Allen said: "I didn't perform, I struggled with my game. Missing the black in the second frame was careless, I lifted my head on the shot. I could have stamped my authority on the match, but instead of being 1-1, ten minutes later I was 3-0 down.

"All credit to Ding because he put me under pressure and deserved to win. I hope he wins it because I've been friendly with him for a few years and it would be great to see him win in China again."