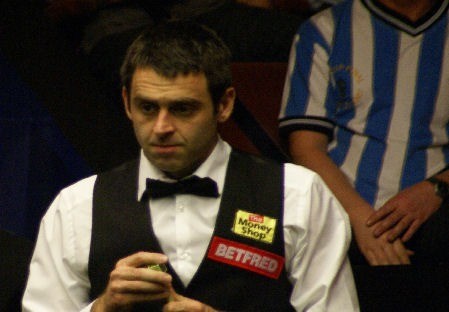 Ronnie O'Sullivan survived a Liang Wenbo fightback to reach the last 16 of the World Championship with a 10-7 win.
Resuming at 7-2 the three-time champion stole two of the first four frames which included a 53 break cut short by the referee replacing the wrong ball.
After a highest break of 39 on Monday, Liang roared back with a 103 and 127 to take four in a row and pile the pressure on O'Sullivan.
The 'Rocket' clung on and now faces a resurgent Mark Williams on Saturday.
The unpredictable nature of O'Sullivan continued to plague his game and the 23-year-old Chinese was the better player for long periods throughout this match.
Fighting to recover from 7-2 down, he started well but having led 60-7 in the 10th his opponent stole it with a stunning 34 that included a miraculous shot from pink to yellow.
It was a frame full of drama on and off the baize as referee Colin Humphries, 24 hours after warning O'Sullivan for a hand gesture, was forced to call a foul after Chigwell's finest potted a red wrongly pulled out to end a 53 break lasting just over two minutes.
Humphries was struggling to keep up with the pace of O'Sullivan in full flow.
After The Rocket potted the black, the official reached down to pick it out of the pocket but instead pulled a red out and put it on the spot which O'Sullivan potted - this had to be called as a foul and was the end of the break.
The frame was already won but it certainly did not ease the tension clearly simmering between the pair in front of the packed Crucible audience.
"I know the rules - I was just disappointed with the shot because I had a good chance to get a 147," O'Sullivan said.
Liang, the 2008 world quarter-finalist, who recently earned a place in the provisional top 16 rankings, kept battling and won three in a row which included knocks of 61 and a 103.
O'Sullivan, eyeing his 23rd ranking title, looked increasingly concerned having to spend longer spells in his chair and worse was to come when Liang knocked in a 127 - the highest break of the tournament so far.
It was a very nervy finish for the 2001, 2004 and 2008 champion but he hung on with a 73 in the last to set up a mouth-watering clash with Williams three months after their epic last-frame thriller in the Masters semi-final.
Looking ahead to that contest he said: "It will be a tough game. he's playing well at the moment and it's a hard draw. He's the only player than can probably beat John Higgins. I could have done with an easier match really."
Snooker Cues
Buy your Snooker Cues from Blackpool Snooker Company. We stock a wide range Peradon Snooker Cues and Cue Craft Snooker Cues