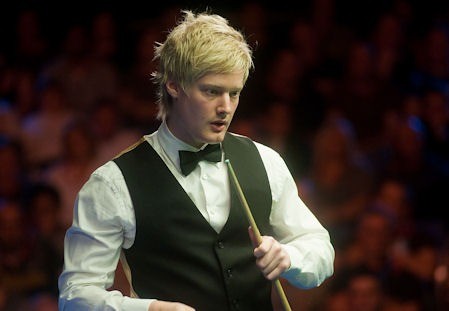 Neil Robertson made the first maximum break of his career during his Sanyuan Foods China Open clash with Peter Ebdon in Beijing.
Aussie ace Robertson potted 15 reds with blacks and added the colours to complete the fantastic break in the second frame of the last-16 match.

It's the 70th 147 in snooker history and the first since last June, when Mark Selby made one in the Wuzhou International Group Jiangsu Classic. It's only the second maximum made in a ranking event in Asia, following Stephen Maguire's in Beijing two years ago.

The break will earn Robertson a £20,000 bonus plus the £2,000 high break prize, providing it's not matched by another player before the end of the tournament on Sunday.

There was plenty of work to do for Robertson towards the end of the break, particularly in executing a superb screw shot on the last red, which was close to the yellow, to gain ideal position on the black. After that he was never out of position as he dispatched the colours.

Left-hander Robertson, age 28, has won four ranking titles, including the Grand Prix earlier this season.